Volunteer at Copeland Tops
Copeland Tops State Conservation Area
Overview
Are you interested in local history and the environment, and live in the Gloucester area? Volunteer to be a tour guide at Mountain Maid gold mine and other areas in Copeland Tops State Conservation Area.
Work

Visitors, events, education, tour guides

When

Wednesday and Saturday weekly, or the first Friday of the month.

Accessibility

Grade

Medium. Moderate fitness required. You'll be leading tour groups over unsealed fire trails and a moderately steep boardwalk. Guides need to be over 18 years.
As a volunteer tour guide, you'll bring history to life and help us share the fascinating story of Copeland Tops State Conservation Area. You'll lead and support guided tours, including:
rainforest boardwalk tours
twilight spotlighting experiences
cultural tours
This is an ideal opportunity if you're enthusiastic about face-to-face contact and guiding visitors of all ages. You'll also need to be free to volunteer at least once a month.
We'll give you full training so you can lead guided tours with confidence. You'll learn about local history and the park environment. You'll also gain valuable experience and new skills, especially in public speaking. Being a volunteer guide is a great way to make new friends and improve your fitness in a beautiful area.
You can look forward to guiding visitors through an area that is home to koalas, lyrebirds, glow worms and other wildlife. Our volunteer guide program has been running for over 10 years, and now is a perfect time to join us. Help us raise awareness of the gorgeous natural environment at Copeland Tops.
It's a good idea to wear sturdy shoes, suitable clothes, a hat and sunscreen when you volunteer. Bring drinking water, snacks, lunch, insect repellent and a raincoat.
Park info
See more visitor info
Visitor info
All the practical information you need to know about Volunteer at Copeland Tops .
Getting there and parking
Maps and downloads
Accessibility
Disability access level - no wheelchair access
Not wheelchair-accessible.
Learn more
Volunteer at Copeland Tops is in Copeland Tops State Conservation Area. Here are just some of the reasons why this park is special:
From little things big things grow
From the delicate epiphytes, only one cell in width, to the gnarled sprawling branches of the ancient grey myrtles, each plant has its place within the ecosystem of the rare dry rainforest. The tract within Copeland Tops is the largest accessible section in the district of Gloucester. Take a walk through the green corridors overhung by strangler figs, shatterwood and grey myrtle. On the ground between mossy rocks and on the sides of trees grow birds nest ferns, staghorns, elkhorns and orchids. The rare stuttering frog is commonly heard around these parts, its call emitting from a preferred habitat of stream-side leaf litter. Its repetitive song is often joined by the screech of glossy black-cockatoos, the "wollack-wa-hoo" of the wompoo fruit-dove and the unpredictable calls of lyrebirds. At night, the masked, powerful and sooty owls come out to hunt and hoot.
Land of plenty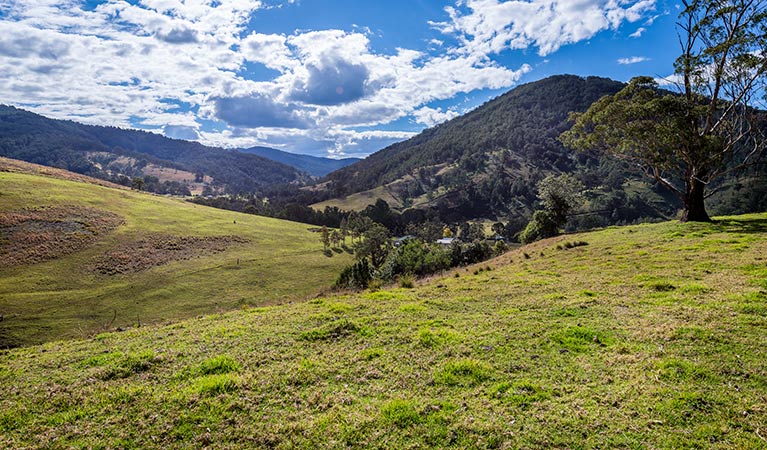 This is the traditional lands of the Worimi and Biripi people who live in the area and previously moved around in response to the seasonal availability of food. Such a broad ecosystem would have provided many resources for medicinal, ceremonial and cultural purposes. It is very likely that people travelling from the coast to Barrington Tops area would have passed through Copeland Tops. Their history will forever be an integral part of this landscape.
Copeland Tops Aboriginal cultural tour

Join an Aboriginal guide on a cultural tour you won't forget! Discover the traditional lands of the Worimi and Biripi people in the foothills of Barrington Tops at Copeland Tops State Conservation Area.
Striking it rich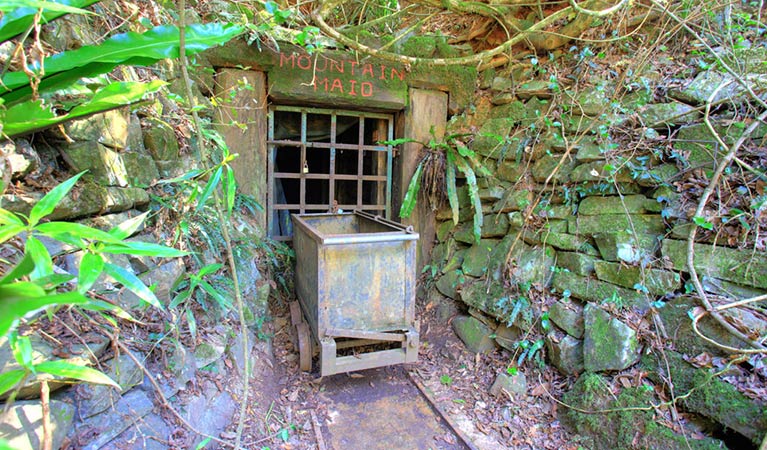 It was the red cedar cutters who, battling to log 'red gold' in this unforgiving terrain from the early 1800s, first discovered gold here in 1875. The area soon became known as Copeland and over the next 60 years more than 50 gold mines were dug in the area. According to the records, over 1800kg of the valuable metal were extracted during that time. Many relics of this mining heritage remain in the form of historic sites and derelict equipment. However, the bushland and rainforest now dominate once again.
Education resources (1)
School excursions (3)