Montague Island Nature Reserve
Overview
Montague Island – Barunguba (bar-ran-goo-ba) in Montague Island Nature Reserve is home to hundreds of seals and more than 90 bird species. Enjoy a stay in a heritage lighthouse keeper's cottage.
Read more about Montague Island Nature Reserve
Montague Island Nature Reserve, just off the South Coast near Narooma, offers the chance to experience a spectacular wildlife wonderland. Choose a day trip or indulge your inner mariner and stay in historic lighthouse accommodation. There's always the option to really get amongst it and become a conservation volunteer. Any way you experience it, the incredible heritage, wildlife and breathtaking island views could keep you coming back.
Visit from late winter to early December to see hundreds of seals lazing on the rocks, or bring your binoculars for a spot of birdwatching. More than 90 bird species have been seen on the island and 19 of them nest over summer. During spring, you're likely to see whales frolicking in the water on their annual southern migration. Our knowledgeable tour guides will be on hand to answer all your questions.
If you're after an unforgettable experience, why not stay overnight in either of the two lovingly-restored lighthouse keeper's cottages? Indulge in a weekend escape with a difference in unique heritage quarters amid spectacular surroundings.
Map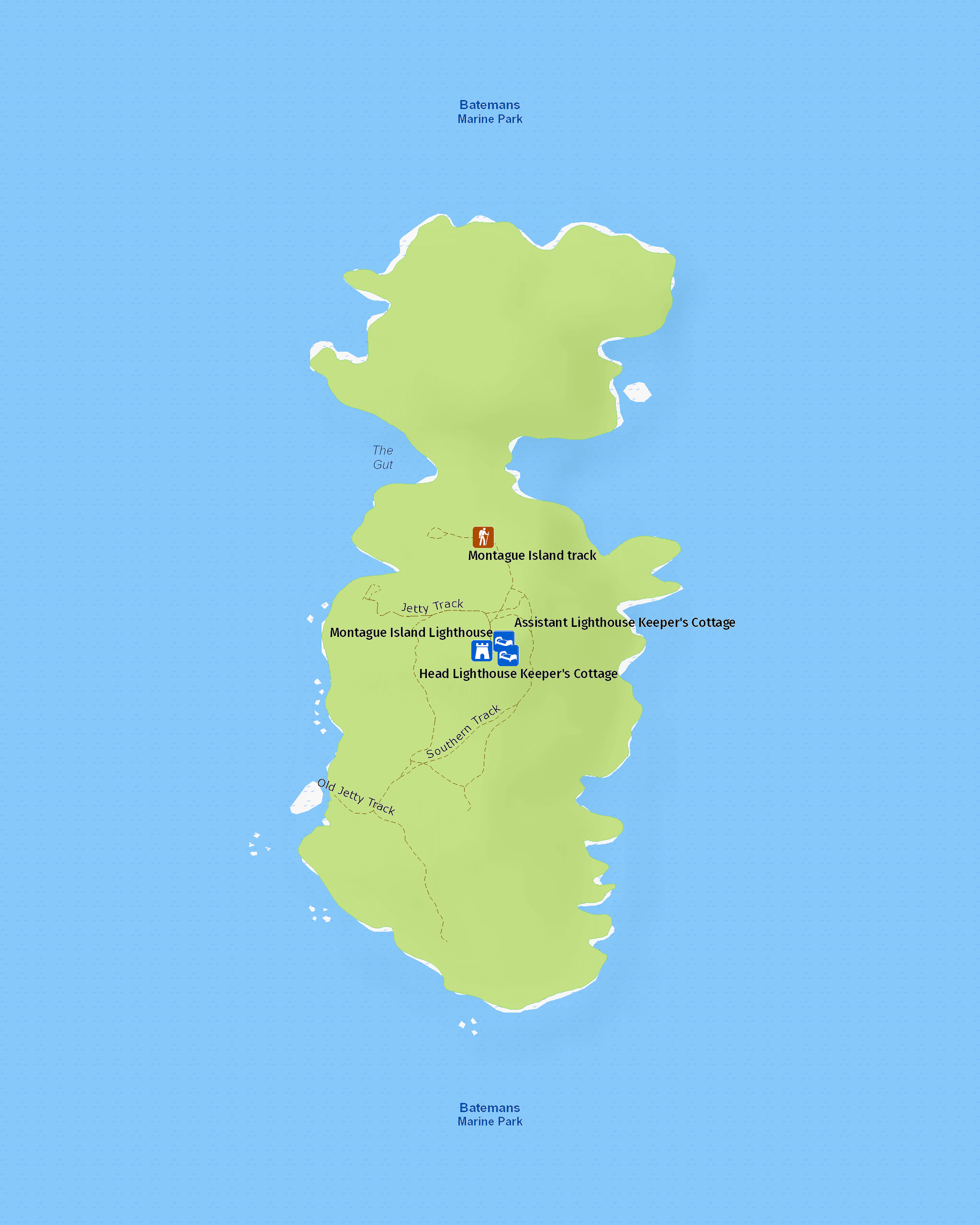 Map legend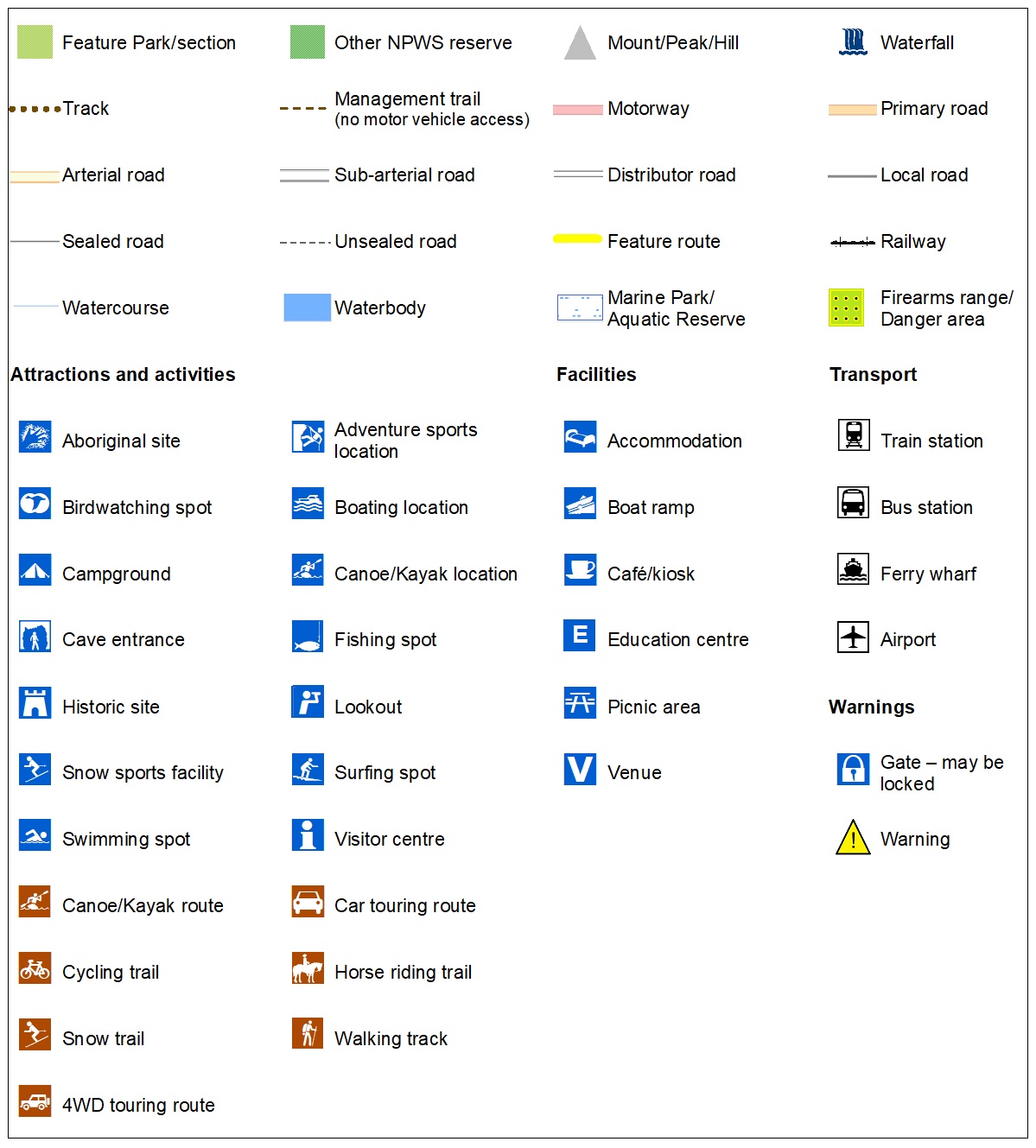 Contact
in the South Coast region

Montague Island Nature Reserve is always open but may have to close at times due to poor weather or fire danger.

Please note: A minimum age of 5 years applies for all visitors. Montague Island is only accessible via one of NSW National Parks & Wildlife contracted commercial vessel tour operators (go to www.eurobodalla.com.au for details).

Narooma office
02 4476 0800
Contact hours: Monday to Friday, 9am to 4pm. Office open by appointment only. Closed public holidays.
10 Graham Street, Narooma NSW 2546

More
See more visitor info
Visitor info
All the practical information you need to know about Montague Island Nature Reserve.
Getting there and parking
Access to Montague Island is only available for guided tour visitors or visitors with an overnight accommodation booking. The island is only accessible by NPWS-contracted commercial vessel tour operators. There is no private vessel access.
A minimum age of 5 years applies to all visitors to Montague Island.
All guests need to be able to independently climb the island's jetty ladder and the steep hill that follows.
Transfers depart from Narooma wharf, Bluewater Drive, Narooma. Narooma is on the Far South Coast of NSW, about 4 hours south of Sydney and 2.5 hours from Canberra.
By public transport
For information about public transport options, visit the NSW country transport info website.
Best times to visit
There are lots of great things waiting for you on Montague Island Nature Reserve. Here are some of the highlights.
Spring
New Zealand and Australian fur seals are at their peak on the island during spring, making this the perfect time for some seal-spotting. To tempt you even more, humpback whales can often be spotted along the coastline, and pods of dolphins come to play among the boats too – book a guided tour that includes whale watching for the best chance to spot this special sea mammal in its own environment From October huge numbers of shearwaters begin to arrive and nest on the island through the summer.
Summer
Soak up the summer sun on a guided tour of Montague Island and provides some of the best weather for photographs.
Winter
From late winter the seal colony on the island starts to grow. It can get quite chilly in winter so pack warm clothes.
Weather, temperature and rainfall
Rainfall
The area's highest recorded rainfall in one day
182mm
Facilities
Toilets
Barbecue facilities
Drinking water
Showers
Electric power
Maps and downloads
Nearby towns
Narooma (9 km)
Narooma is Coastal town with superb beaches and abundant wildlife. Its set on the the foreshores wrapped around the Wagonga River estuary.
Bermagui (40 km)
Bermagui is a colourful port, famous for its deep-sea fishing. It's on the estuary of the Bermagui River, close to national parks.
Canberra (219 km)
Canberra is the home of Australia's Parliament House, National Gallery, National Museum and War Memorial, as well as many more significant cultural and architectural offerings. Kids of all ages love the interactive science and technology at Questacon.
Learn more
Montague Island Nature Reserve is a special place. Here are just some of the reasons why:
Colonial heritage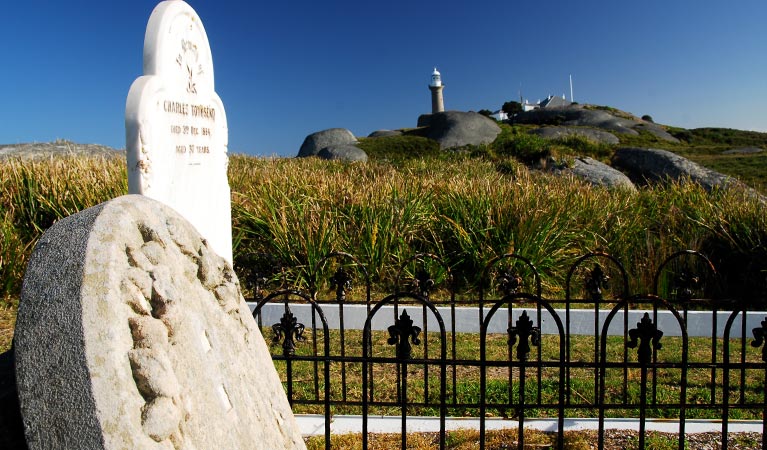 Get in touch with Australia's colonial history - Captain James Cook spotted Montague Island from his tall ship in 1770 but assumed it was part of the mainland. The island was only officially identified by European Settlers as an island, and named 'Montagu' after the Earl of Halifax George Montagu Dunk, by the master of the convict ship Surprise in 1790. The island received visits from several shipwrecked sailors, and during the goldrush seabird eggs were collected from the island to sell to miners.
Montague Island Lighthouse

Montague Island Lighthouse on Montague Island – Barunguba (bar-ran-goo-ba) is the perfect place to get in touch with history while seeing dramatic views, amazing birds and marine wildlife.
A sacred place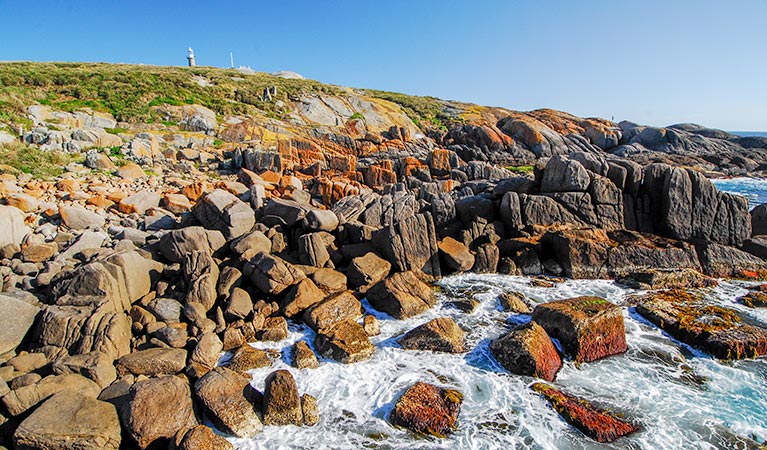 The Yuin people have had a long connection with Montague Island; travelling to the island for traditional ceremonies and food, and using it as a men's teaching place. It would have been a dangerous trip - 9km each way by bark canoe. There are many Aboriginal artefacts and middens on the island. Montague Island is known as Barunguba, and is the eldest son of Gulaga (Mount Dromedary) and a brother to Najunuka (Little Dromedary). The older brother, Barunguba was allowed out to sea while Najunuka, the younger brother, had to stay close to his mother.
A sanctuary for seabirds, seals and whales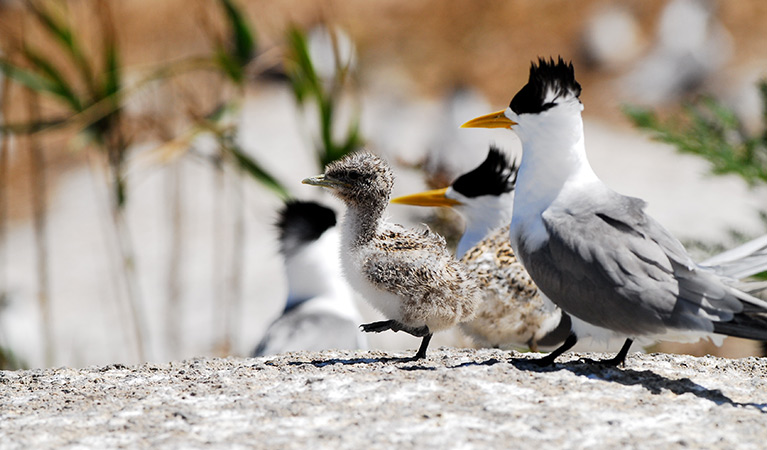 The protected waters of Montague Island are a playground for hundreds of seals who make the island their home, all year round. Between September and November you can also see humpback and southern right whales pass the island on their annual migration south. Watch for blowholes and spectacular displays from the island or on a combined whale watching and island tour. With more than 90 bird species seen on the island, and 15 species breeding there, you'll be reaching for your binoculars – and camera – at every turn. Up to 8,000 penguins live on the island at any one time. Between September and March they are joined by three species of shearwaters, which can produce more than 12,000 chicks per year, and their colonies seem to be growing!
Montague Island Lighthouse

Montague Island Lighthouse on Montague Island – Barunguba (bar-ran-goo-ba) is the perfect place to get in touch with history while seeing dramatic views, amazing birds and marine wildlife.

Montague Island walking track

This coastal walk around Montague Island – Barunguba (bar-ran-goo-ba) is short but challenging and takes you past the historic lighthouse and precious penguin breeding boxes.
Plants and animals you may see
Animals
The largest fur seal, Australian fur seals are found in isolated rocky outcrops and islands along the NSW coast. They come ashore to form breeding colonies and can often be seen at Montague Island Nature Reserve.

The humpback whale has the longest migratory path of any mammal, travelling over 5000km from its summer feeding grounds in Antarctica to its breeding grounds in the subtropics. Its playful antics, such as body-rolling, breaching and pectoral slapping, are a spectacular sight for whale watchers in NSW national parks.

White-bellied sea eagles can be easily identified by their white tail and dark grey wings. These raptors are often spotted cruising the coastal breezes throughout Australia, and make for some scenic bird watching. Powerful Australian birds of prey, they are known to mate for life, and return each year to the same nest to breed.
Environments in this park
Education resources (1)
What we're doing
Montague Island Nature Reserve has management strategies in place to protect and conserve the values of this park. Visit the OEH website for detailed park and fire management documents. Here is just some of the work we're doing to conserve these values:
Preserving biodiversity
Montague Island Nature Reserve abounds with remarkable wildlife and is proud of its biodiversity. The reserve has programs in place to protect and enhance the habitats of all nesting seabird species. NPWS is committed to plant and animal conservation, and efforts to protect threatened, vulnerable and endangered species are ongoing in this park.
Managing weeds, pest animals and other threats
Montague Island Nature Reserve is a biodiversity hot spot, and pests and weeds can have an impact on this sensitive park value. Pest reduction is a priority to manage species which threaten this reserve, and ongoing risk assessment takes place to identify new and emerging weeds. This plays an important part of the work NPWS does to protect this nature reserve for the future.
Historic heritage in our parks and reserves
With a goal to uphold a rich visitor experience and conserve the historic values of Montague Island Nature Reserve, there are ongoing projects to ensure historic heritage is conserved and the buildings reflecting this heritage of the area are also maintained.
Developing visitor facilities and experiences
NPWS is committed to raising awareness of Montague Island Nature Reserve, its flora, fauna and wealth of unique offerings. NPWS continually works to enhance the experiences available to park visitors, the local community and greater public, and actively promotes volunteering opportunities within the park.