Wollumbin National Park
Overview
Wollumbin National Park, formerly known as Mount Warning National Park, is closed due to significant safety issues on the Wollumbin Summit track. Read more about the closure, which will be reviewed in May 2021.
Read more about Wollumbin National Park
Wollumbin National Park is a great place for a picnic or a day walk through World Heritage-listed rainforest. Wollumbin, which dramatically rises from World Heritage-listed Wollumbin National Park to a height of 1,157m above sea level, is a remnant central vent of an ancient volcano. Formerly known as Mount Warning, this spectacular peak can be viewed from a range of vantage points in the surrounding massive crater (caldera), including Cudgen Nature Reserve, Border Ranges National Park and Nightcap National Park, Cape Byron Lighthouse and various settlements.
Explore this exquisite Gondwana Rainforest of Australia, and discover its rich plant, bird and animal life on a walk along the short Lyrebird track. As you walk the winding path under towering palms listening out for the calls of whipbirds, noisy pitta and, of course, lyrebirds. Enjoy a picnic beside Breakfast Creek or at Korrumbyn picnic area.
Contact
in the North Coast region

Wollumbin National Park is closed due to significant safety issues. The closure will be reviewed in May 2021.

Murwillumbah office
02 6670 8600
Contact hours: Monday to Friday, 8.30am to 4.30pm.
Level 1/135 Murwillumbah Street, Murwillumbah NSW 2484

More
See more visitor info
Visitor info
All the practical information you need to know about Wollumbin National Park.
Getting there and parking
From Murwillumbah:
Head southwest towards Uki along Riverview Street, which becomes Kyogle Road, and then Uki Road at Byangum Bridge.
Approximately 12km from Murwillumbah, before you reach Uki, turn right into Mount Warning Road.
Travel approximately 3.5km to carpark
Parking
By bike
Check out the Bicycle information for NSW website for more information.
By public transport
For information about public transport options, visit the NSW country transport info website.
Best times to visit
There are lots of great things waiting for you in Wollumbin National Park. Here are some of the highlights.
Autumn
Look out for macropods and young birds as they prepare to head out by themselves and find their own home range.
Spring
During this season, the forest floor comes alive with colour and activity while the canopy blooms with flowers and bears fruit above. Birds display their breeding plumage while animals taking advantage of the free bounty. The sweet fragrance of nectar fills the forest to entice insects, birds, bats and mammals.
Summer
The frequency of spectacular afternoon storms means this can be a great time for photographers.
Winter
Enjoy the clear blue skies common during this season of stable highs which dominate the Northern Rivers region in winter.
Weather, temperature and rainfall
Rainfall
The area's highest recorded rainfall in one day
321mm
Nearby towns
Uki (10 km)
Explore the scenic wonders of the lush, World Heritage-listed rainforests of northern NSW on the meandering Rainforest Way. Uki is just one of the small villages that you'll pass through - it's certainly in one of the most scenic locations.
Murwillumbah (15 km)
Murwillumbah is rich dairy, sugar cane and banana country. It's located on the banks of the Tweed River and set in the Tweed River Valley against a backdrop of rainforest-clad hills.
Mullumbimby (55 km)
Mullumbimby sits on the Brunswick River and is overshadowed by subtropical hills.
Learn more
Wollumbin National Park is a special place. Here are just some of the reasons why:
Sacred summit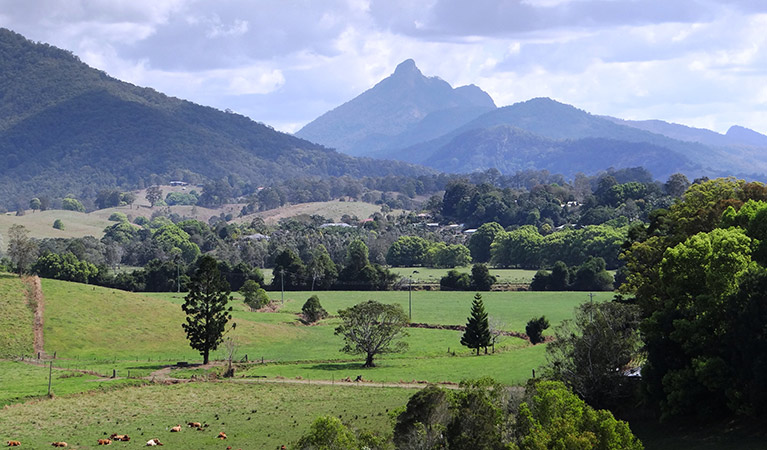 Captain Cook named it Mount Warning, but to the Aboriginal community, it's a sacred place known as Wollumbin. Many stories from communities in the far-reaching surrounding area are associated with this site. For local Aboriginal people, including Nganduwal, Galibal, Gidhabul and Widjabal, Wollumbin is an integral part of a complex network of mythological and significant sites interrelated and bound together by their Dreaming. Despite being dispossessed during early European settlement, local Aboriginal people maintain a diversity of living cultures and a unique and deep attachment to this land.
Green rooms of the world
Wollumbin National Park is a Gondwana Rainforest of Australia. Gondwana rainforests include the world's most extensive areas of subtropical rainforest, large areas of warm temperate rainforest and Antarctic beech cool temperate rainforest. Luckily, you don't have to go far to experience some of these environments, which are practically in your backyard.
Lyrebird track

Wollumbin National Park, including Lyrebird track, is closed due to significant safety issues. Read more about the closure, which will be reviewed in May 2021. 

Wollumbin (Mount Warning) summit track

Wollumbin (Mount Warning) summit track is closed due to significant safety issues. Read more about the closure, which will be reviewed in May 2021.
Voices of the forest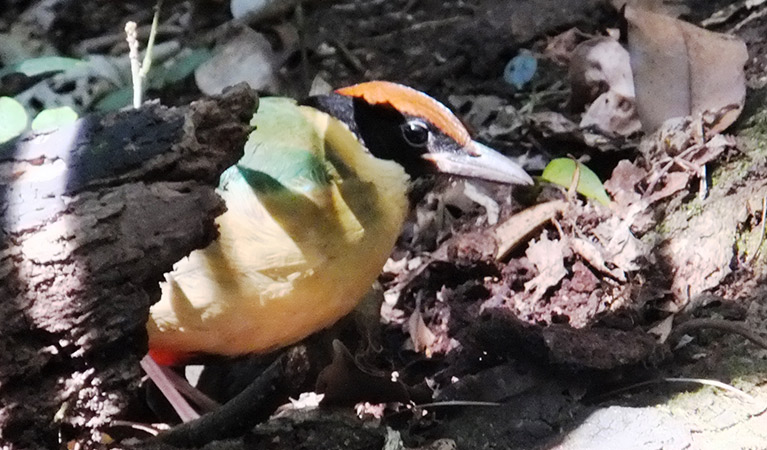 Can you hear the pouched frog? It's a very quiet 'eh-eh-eh-eh-eh-eh'. Did you know that the sound of the eastern whipbird is a duet? The first long note comes from the male and then the female joins in with her whip crack response. From the high canopy down to the forest floor live a huge variety of animals and birds to see and hear. Though some, like the carpet python, land mullet, eastern small-eyed snake, lace monitor, black-bellied marsh snake and long-nosed potoroo, are very quiet creatures. Plant species in Wollumbin seem varied to the extremes. There are prettily-named ones such as maidenhair, silkpod, watervine, wait-a-while, tree fern, wilkiea and red apple. These live alongside Wollunbin zieria, with its warty and felted branchlets, the prickly shield fern, stinging nettle, flooded gum, giant spear lily, dogwood, turpentine and, most disconcerting, giant stinging tree.
Lyrebird track

Wollumbin National Park, including Lyrebird track, is closed due to significant safety issues. Read more about the closure, which will be reviewed in May 2021. 
Plants and animals you may see
Animals
Koala

(Phascolarctos cinereus)

One of the most renowned Australian animals, the tree-dwelling marsupial koala can be found in gum tree forests and woodlands across eastern NSW, Victoria and Queensland, as well as in isolated regions in South Australia. With a vice-like grip, this perhaps most iconic but endangered Australian animal lives in tall eucalypts within a home range of several hectares.

The Australian brush turkey, also known as bush or scrub turkey, can be found in rainforests along eastern NSW. With a striking red head, blue-black plumage and booming call, these distinctive Australian birds are easy to spot while bird watching in several NSW national parks.

One of Australia's largest lizards, the carnivorous tree-dwelling lace monitor, or tree goanna, can grow to 2m in length and is found in forests and coastal tablelands across eastern Australia. These Australian animals are typically dark blue in colour with whitish spots or blotches.
Environments in this park
Education resources (1)
What we're doing
Wollumbin National Park has management strategies in place to protect and conserve the values of this park. Visit the OEH website for detailed park and fire management documents. Here is just some of the work we're doing to conserve these values:
Preserving biodiversity
Wollumbin protects habitat for the threatened koala, little bentwing-bat, southern myotis and powerful owl. It also supports wet sclerophyll forest, rainforest and dry sclerophyll vegetation. All management activities will involve environmental or heritage assessments to ensure biodiversity values within this park are prioritised.
Managing weeds, pest animals and other threats
Pests and weeds have a significant impact to the ecosystems within Wollumbin National Park. NPWS carries out risk assesments for new and emerging weeds as well as wild dog control to protect biodiversity in this park.
Conservation program
Weeds and pest animals cause substantial damage to agriculture and our environment, so it's essential we manage them in NSW national parks and reserves. Our regional pest management strategies aim to minimise the impact of pests on biodiversity in NSW.  We work hard to protect our parks and neighbours from pests and weeds, ensuring measurable results.
Conserving our Aboriginal culture
The Wollumbin area has high cultural value for many Aboriginal groups in north-east New South Wales and south-east Queensland, including Nganduwal, Galibal, Gidhabul and Widjabal peoples. The Wollumbin Consultative Group represents local Aboriginal interests and will continue to be consulted regarding park planning and management initiatives within this park.
Managing fire
NSW is one of the most bushfire prone areas in the world as a result of our climate, weather systems, vegetation and the rugged terrain. NPWS is committed to maintaining natural and cultural heritage values and minimising the likelihood and impact of bushfires via a strategic program of fire research, fire planning, hazard reduction, highly trained rapid response firefighting crews and community alerts.
Conservation program
Bushfires are inevitable across fire-prone vegetation types within NSW national parks. NPWS prepares for wildfires by working with other fire agencies, reserve neighbours and the community to ensure protection of life, property and biodiversity. Every park has its own fire management strategy, devised in consultation with partner fire authorities and the community to plan and prioritise fire management.