Warrumbungle National Park
Warrumbungle National Park near Coonabarabran in NSW is Australia's only Dark Sky Park, making it the perfect spot for stargazing, amateur astronomy and camping under the starriest of skies.
Read more about Warrumbungle National Park
The Breadknife, easily the most recognisable feature within the park, towers 90m above the valley floor and is a symbol of the park's enduring importance and resilience. The Breadknife and Grand High Tops walk is recognised as one of the best walks in NSW, with close up views of the park's iconic rock formations.
Whether you're into camping, walking, birdwatching or astronomy, the park's big sky, amazing light and dramatic rock formations make it an outstanding place for amateur and professional photographers.
Wildfires in 2013 marked yet another chapter in this great park's history. NPWS has worked hard to rebuild its facilities for generations to come. Walking tracks, campgrounds and other visitor sites have been rebuilt with new modern facilities. Drop into the Warrumbungle Visitor Centre for park information or buy a star chart to enjoy our starry nights.
Contact
in the Country NSW region

Warrumbungle National Park is always open but may have to close at times due to poor weather or fire danger.

Park entry fees:

$8 per vehicle per day.

Buy annual pass.

Warrumbungle NP Visitor Information Centre
02 6825 4364
Contact hours: 9am to 4pm daily. Closed Christmas Day.
4261 John Renshaw Parkway, Warrumbungle NSW 2828

More
See more visitor info
Visitor info
All the practical information you need to know about Warrumbungle National Park.
Getting there and parking
The turn-off to Warrumbungle National Park is clearly signposted.
From Coonabarabran:
Take Dalgarno Street west from Newell Highway/John Street
Turn right onto Namoi Street, then turn left onto Eden Street
Following signs for Warrumbungle National Park, travel along Timor Road/John Renshaw Parkway for approx. 35km.
Following the signs within the national park, turn right off John Renshaw Parkway and travel approx. 300m to the visitor centre.
From Gilgandra:
Take Newell Highway north towards Coonabarabran
At the brown Tourist Drive 1 sign, turn left off the highway into the village of Tooraweenah. Follow Tourist Drive 1 north through Tooraweenah
Continue for 26km to the T-intersection at the old Gummin Gummin homestead
Turn right onto John Renshaw Parkway and continue for 8km, when you will enter the national park.
Continue along John Renshaw Parkway for approx. 6km more, then turn left off John Renshaw Parkway and travel approx. 300m to the visitor centre.
From Coonamble:
Take Castlereagh Highway south, and turn left onto King Street.
Continue along Coonamble-Tooraweenah Road for approx. 68km. Some of this road is unsealed.
Once within Warrumbungle National Park, continue along John Renshaw Parkway for approx. 6km.
Turn left off John Renshaw Parkway and travel approx. 300m to the visitor centre.
From Gulargambone:
Take Gulargambone Road east for approx. 31km, as it becomes John Renshaw Parkway. Some of this road is unsealed.
Veer right onto Coonamble-Tooraweenah Road. Some of this road is unsealed.
Once within Warrumbungle National Park, continue along John Renshaw Parkway for approx. 6km.
Turn left off John Renshaw Parkway and travel approx. 300m to the visitor centre.
Park entry points
Parking
Road quality
By bike
Check out the Bicycle information for NSW for more information.
By public transport
For information about public transport options, visit the NSW country transport info website.
Best times to visit
You may experience a great range of temperatures on any day in the park. In summer it's generally hot in the daytime and temperatures often exceed 30C. In contrast, winter can be very cold and the temperature drops below freezing at night. Rainfall is also highly variable, ranging from drought to prolonged wet periods. Less rain falls on the western side of the park than on the eastern side. It rains most from December to February and the annual average rainfall is 720mm. Thunderstorms are common in mid to late summer.
Spring
During early spring wildflowers are in bloom, including a huge variety of golden wattle flowers With a more moderate climate, spring is a great time to get out and camp under the stars .
Weather, temperature and rainfall
Rainfall
The area's highest recorded rainfall in one day
176.3mm
Facilities
Amenities
Barbecue facilities Show more
Drinking water
Public phone
Showers
Maps and downloads
Fees and passes
Park entry fees:
$8 per vehicle per day.
All Parks Pass - For all parks in NSW (including Kosciuszko NP) $190 (1 year) / $335 (2 years)
Multi Parks Pass - For all parks in NSW (except Kosciuszko) $65 (1 year) / $115 (2 years)
Country Parks Pass - For all parks in Country NSW (except Kosciuszko) $45 (1 year) / $75 (2 years)
Single Country Park Pass - For entry to a single park in country NSW (except Kosciuszko). $22 (1 year) / $40 (2 years)
Annual passes and entry fees (https://www.nationalparks.nsw.gov.au/passes-and-fees)
Visitor centre
Nearby towns
Coonabarabran (24 km)
Coonabarabran is the closest town to the craggy peaks and spires of the Warrumbungle Ranges. Warrumbungle National Park is popular for bushwalking, camping and encountering wildlife amid breathtaking scenery.
Gilgandra (60 km)
Just a 50-minute drive north of Gilgandra are the majestic Warrumbungles - an area of forested ridges, barren spires, deep gorges and walking tracks. Warrumbungle National Park has some excellent day walks, such as the Breadknife and Grand High Tops walk.
Coonamble (95 km)
Coonamble is a delightful country town, the gateway to the wetlands of the Macquarie Marshes and the rugged scenery of Warrumbungle National Park. Nearby are opal fields to the north, and the Pilliga State Forest, with its stands of eucalypts.
Learn more
Warrumbungle National Park is a special place. Here are just some of the reasons why:
Aboriginal dreamtime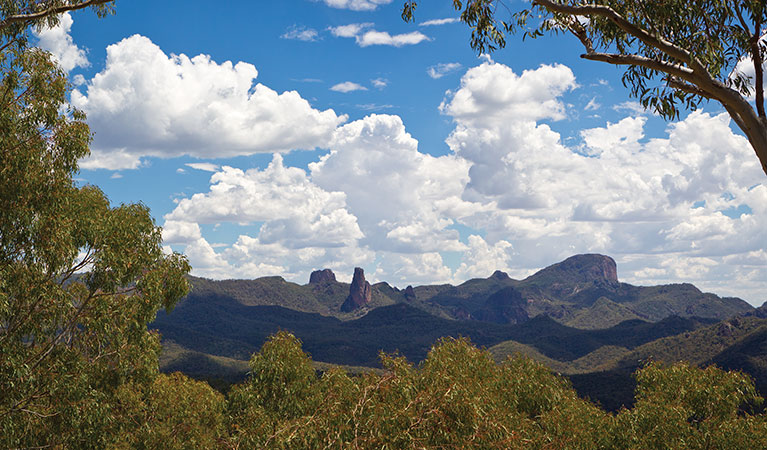 Warrumbungle is a Gamilaroi (also written Gamilaraay) word meaning crooked mountain, and for many thousands of years it has been a spiritual place for the custodians of this land, the Gamilaroi, the Wiradjuri and the Weilwan. The landscape, plants and animals of the park are a constant reminder of its sacred significance to Aboriginal people today. Take an Aboriginal Discovery guided tour to find out more about the Aboriginal cultural heritage.
Landscape and geology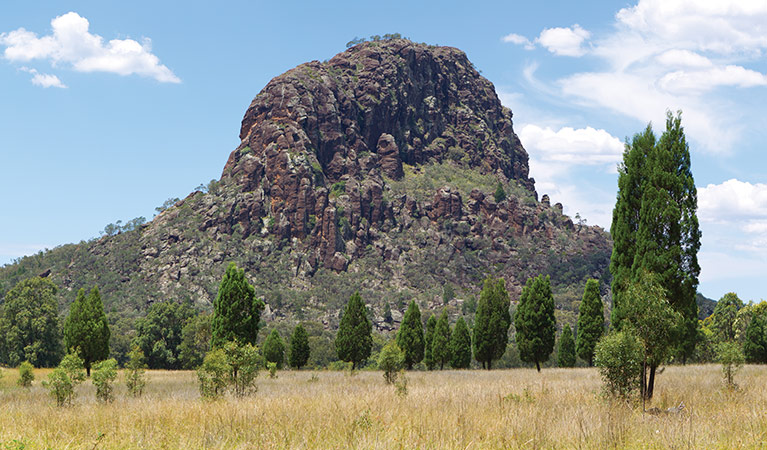 The landscape of Warrumbungle National Park has been shaped by thousands of years of volcanic activity; spend some time looking at Crater Bluff and Belougery Spire and imagine the vents of magma that once erupted to create these formations. Old lava flows created at Mount Exmouth and Siding Spring Mountain, just outside the boundary of the park and Belougery Split Rock and Bluff Mountain are great examples of volcanic action. The most iconic feature in the park, The Breadknife, is a volcanic dyke which stands a massive 90m tall.
Wish upon a star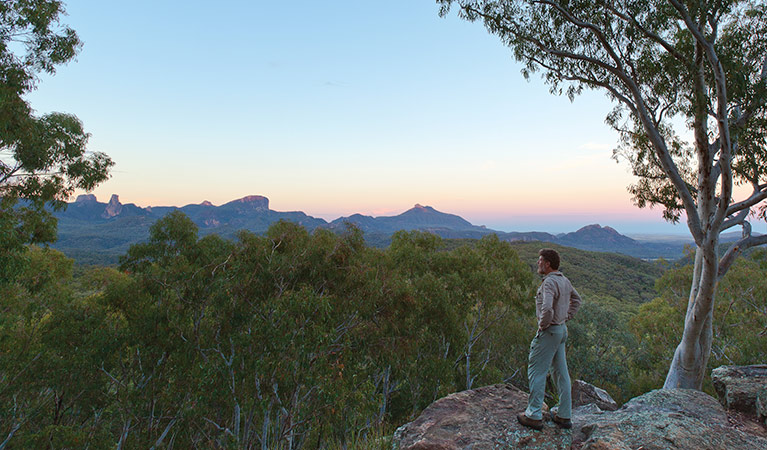 Warrumbungle National Park is Australia's only Dark Sky Park. Nearby Coonabarabran is known as the 'Astronomy Capital of Australia'. Stargaze from your campsite, or if you want to see right up to the heavens, visit the Siding Springs Observatory. The dramatic mix of volcanic spires and domes, plateaus, forested ridges and tall volcanic dykes are bound to make even the youngest of photographers look good, so whatever you do ‐ don't forget your camera.
Canyon picnic area

Canyon picnic area is a fully accessible, family friendly picnic area in Warrumbungle National Park. Not far from the visitor centre, it features barbecues and tables.

Warrumbungle Visitor Centre

Visitor information is available at the Warrumbungle Visitor Centre, which is now back in its original location. Get great suggestions and tips for walking and camping in Warrumbungle National Park.

Whitegum lookout

Whitegum lookout in Warrumbungle National Park features spectacular views of the landscape and picnic tables. It is wheelchair accessible and an easy walk for children.
Diversity of wildlife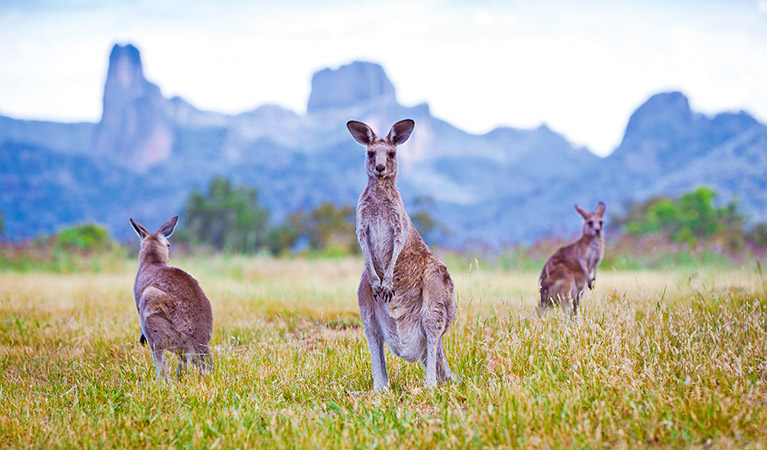 Warrumbungle National Park has a rich diversity of landforms and microclimates, and provides a habitat for hundreds of plant and animal species in the area. Flourishing with vibrant Warrumbungle Range wattle, geebung and broad-leaf hop-bush, there's an abundance of rich birdlife in the area, including species such as emus, wedge-tailed eagles and boobook owls - just a few of over 190 bird species recorded in the park. If you're lucky, you may also spot wildlife such as the ringtail possum, greater glider and brush-tailed rock wallaby. Be sure to also keep an eye out for blue-tongue lizards and lace monitors rustling through the bush.
Burbie Canyon walking track

Burbie Canyon walking track in Warrumbungle National Park offers a gentle 2km stroll through a sandstone gorge, and is particularly popular for birdwatching.
Plants and animals you may see
Environments in this park
Education resources (1)
What we're doing
Warrumbungle National Park has management strategies in place to protect and conserve the values of this park. Visit the OEH website for detailed park and fire management documents. Here is just some of the work we're doing to conserve these values:
Preserving biodiversity
NPWS works to protect biodiversity in all parks, and Warrumbungle National Park is no exception. Revegetation programs are ongoing in this park, and can include seed propagation, tree planting, controlled ecological burning, extensive research and monitoring. Fencing and pest management strategies also take place within this park.
Managing weeds, pest animals and other threats
Pests and weeds have a significant impact to the ecosystems within Warrumbungle National Park. NPWS carries out pig, fox, goat, wild dog and weed control as well as risk assessments for new and emerging weeds to protect biodiversity in this park.
Conservation program
The NSW government has an obligation to control feral animal populations in NSW national parks. One of the most effective and humane techniques for achieving this is aerial shooting, carried out by experts who have been accredited by the Feral Animal Aerial Shooting Team (FAAST) training program.
Managing fire
NSW is one of the most bushfire prone areas in the world as a result of our climate, weather systems, vegetation and the rugged terrain. NPWS is committed to maintaining natural and cultural heritage values and minimising the likelihood and impact of bushfires via a strategic program of fire research, fire planning, hazard reduction, highly trained rapid response firefighting crews and community alerts.
Conservation program
Bushfires are inevitable across fire-prone vegetation types within NSW national parks. NPWS prepares for wildfires by working with other fire agencies, reserve neighbours and the community to ensure protection of life, property and biodiversity. Every park has its own fire management strategy, devised in consultation with partner fire authorities and the community to plan and prioritise fire management.