Sturt National Park
Overview
Head to Sturt National Park on your journey into the Australian outback. Camp for a few days to really explore the landscape and historic heritage of the park.
Read more about Sturt National Park
Sturt National Park protects an enormous arid landscape of space and solitude. From the rolling red sand dunes of the Strezlecki desert to the flat-topped mesas and the 450 million year old granite tors around Tibooburra, a visit to this outback park is a once in a lifetime experience for many.
One of the best ways to explore the park is along one of the self-guided drives or you could join a guided tour with one of the tour operators that visit the park. For more up close views of the landscape, try the short loop walks at Fort Grey or Dead Horse Gully. If you've only time for one walk, head to Mount Wood hills for a walk to the summit where stunning views of this spectacular landscape are waiting.
There's also the historic Dingo Fence that runs east to south-west along the eastern third of Australia and along the western and northern boundary of Sturt National Park. Originally built in the 1880's to keep dingoes away from sheep flocks and the southern part of the country, at 5,614km, it's the world's longest fence.
Spend the night at one of the park's four campgrounds, each of which offers sites suitable for caravans and camper trailers as well as barbecue and picnic facilities. You may have the campground all to yourself; however you might share the space with some of the park's resident kangaroos and abundant birdlife.
Find out more about the feral predator-free areas project in Sturt National Park.
Map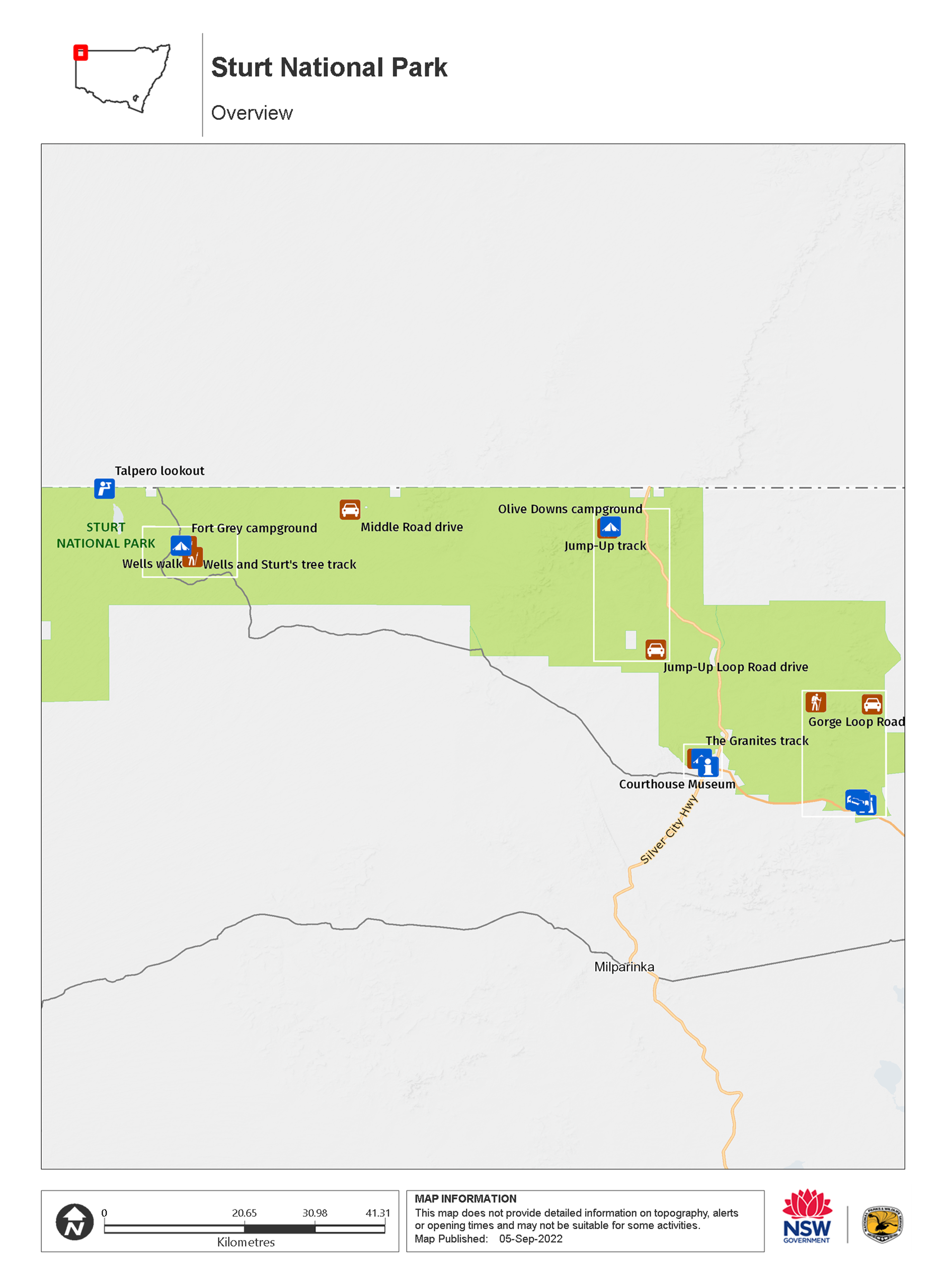 Map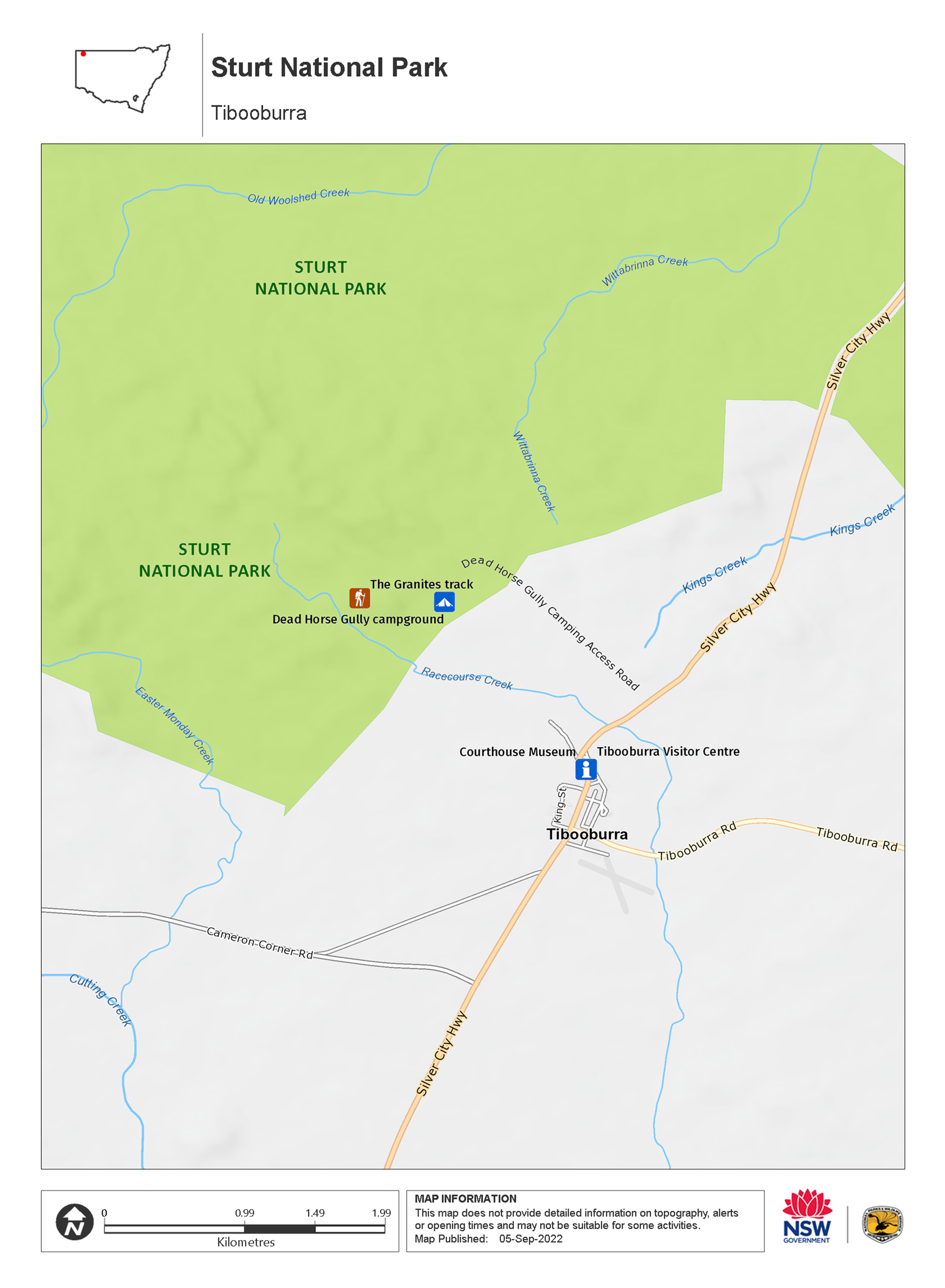 Map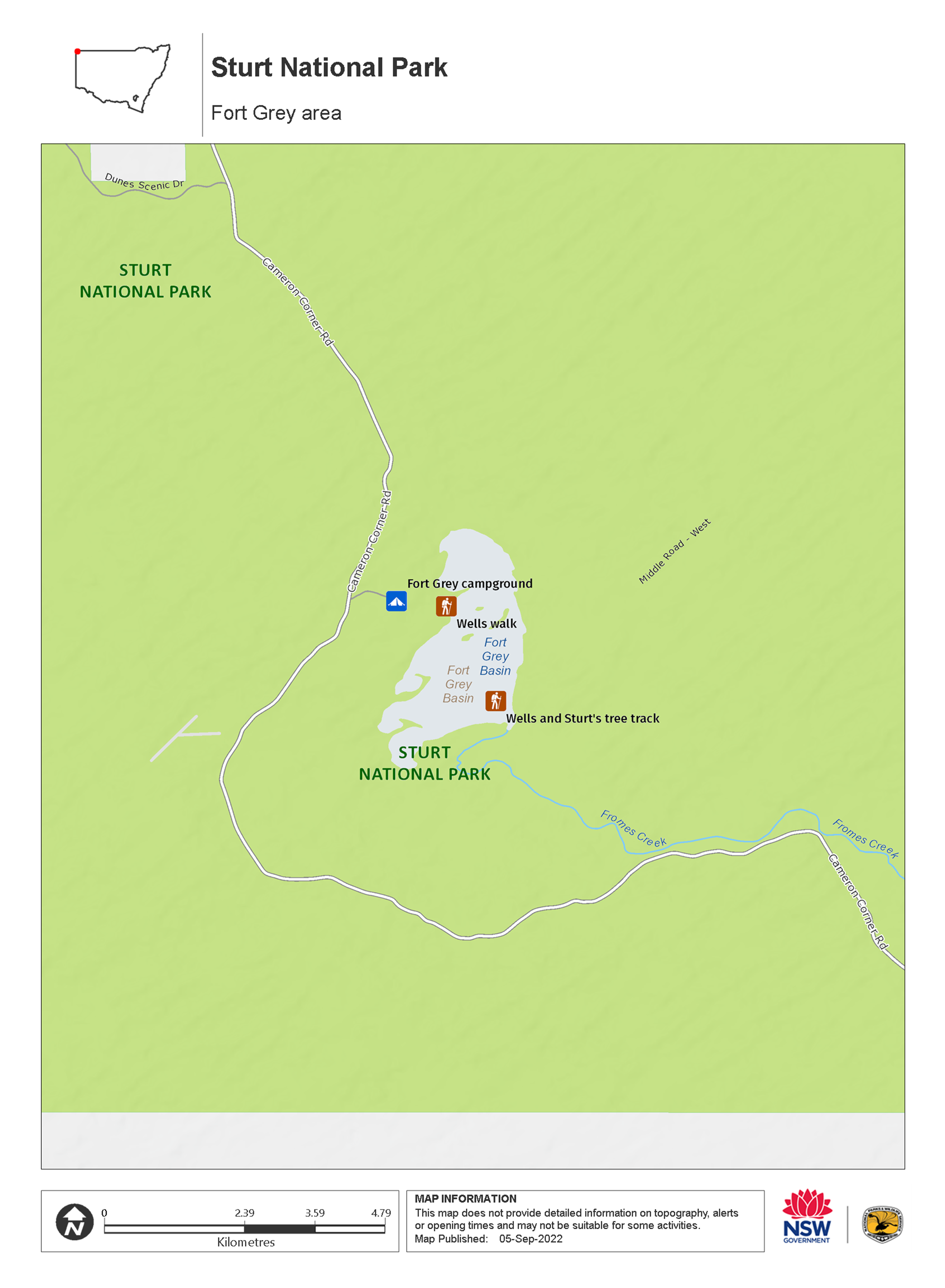 Map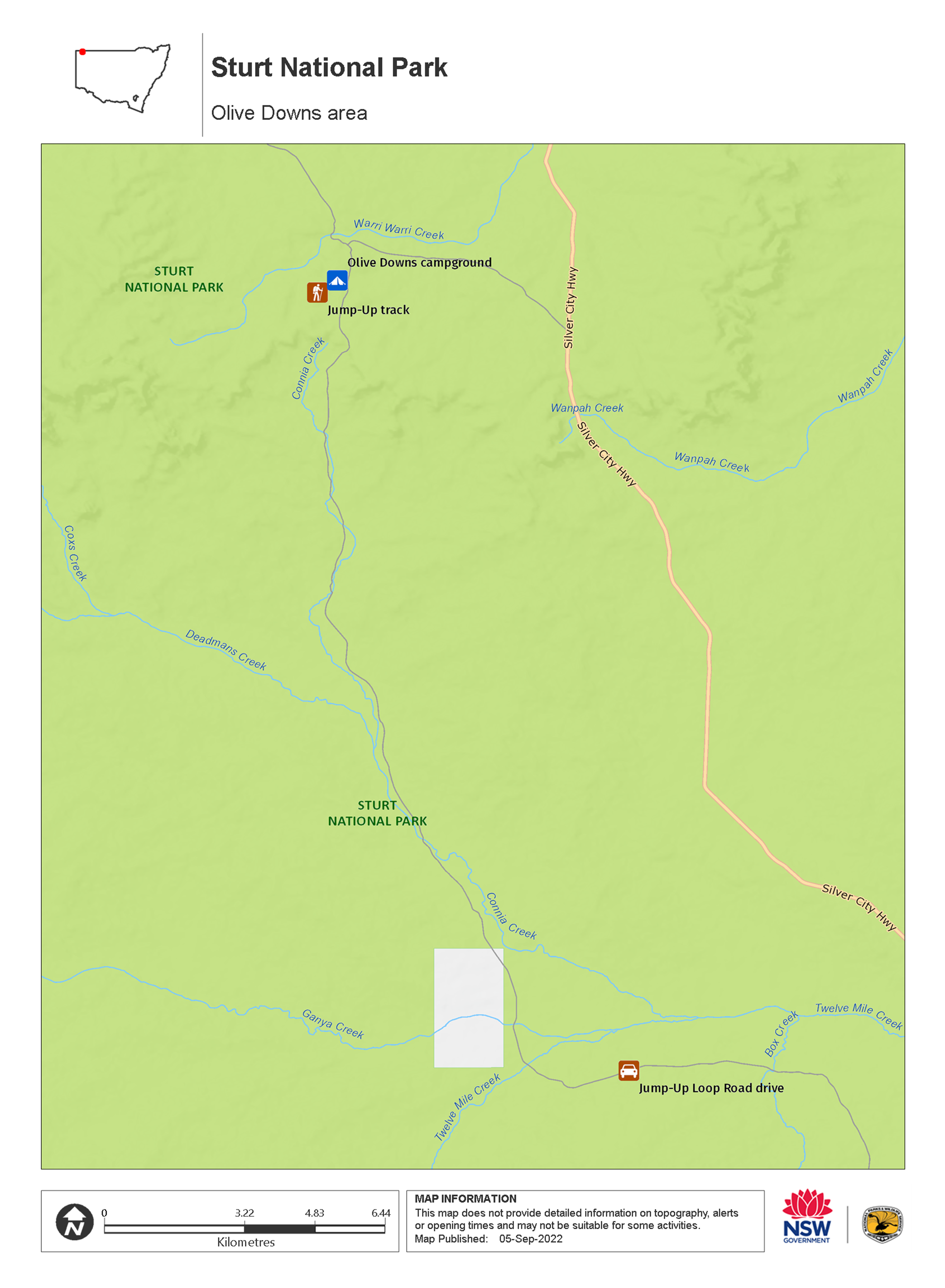 Map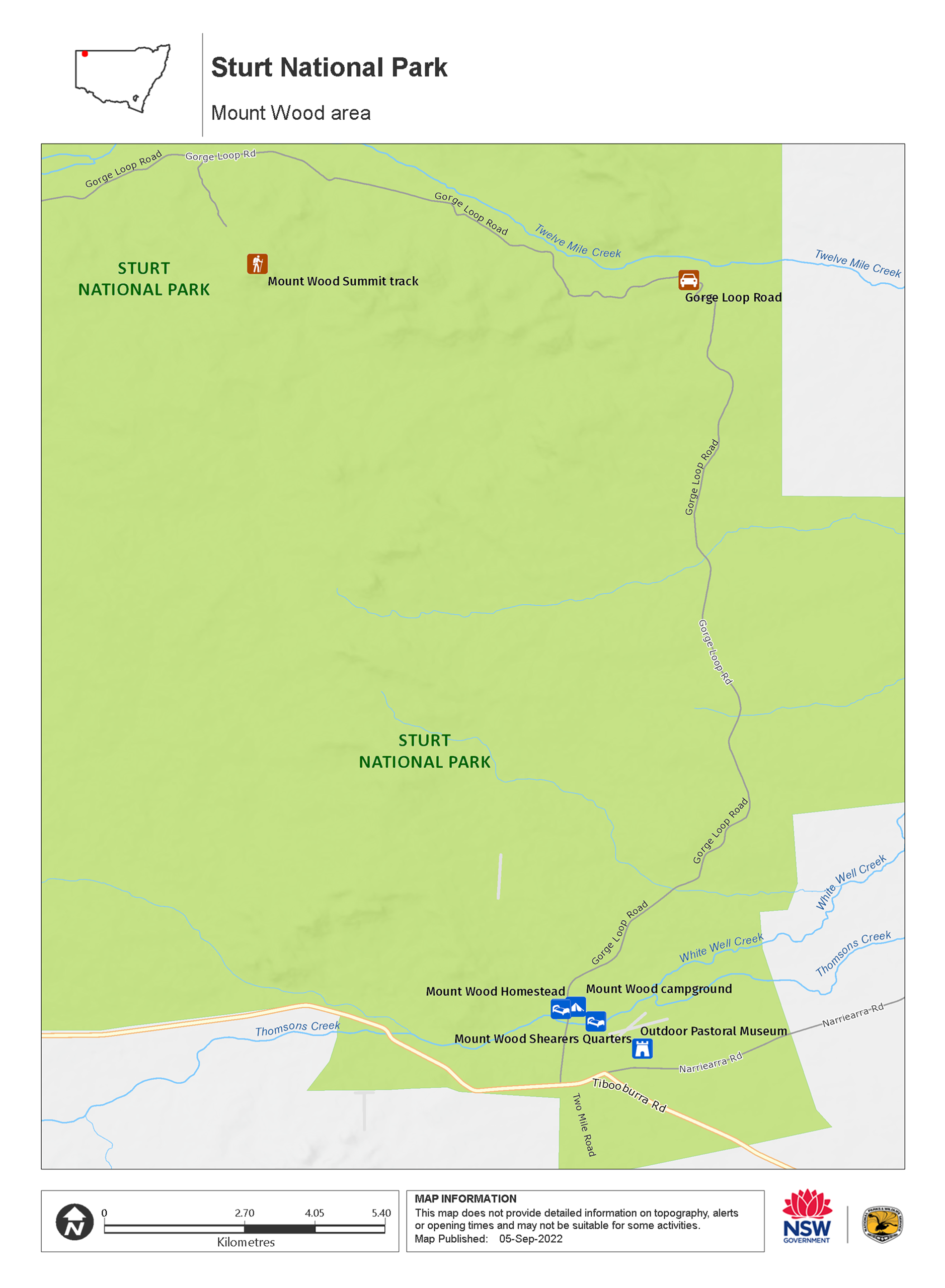 Map legend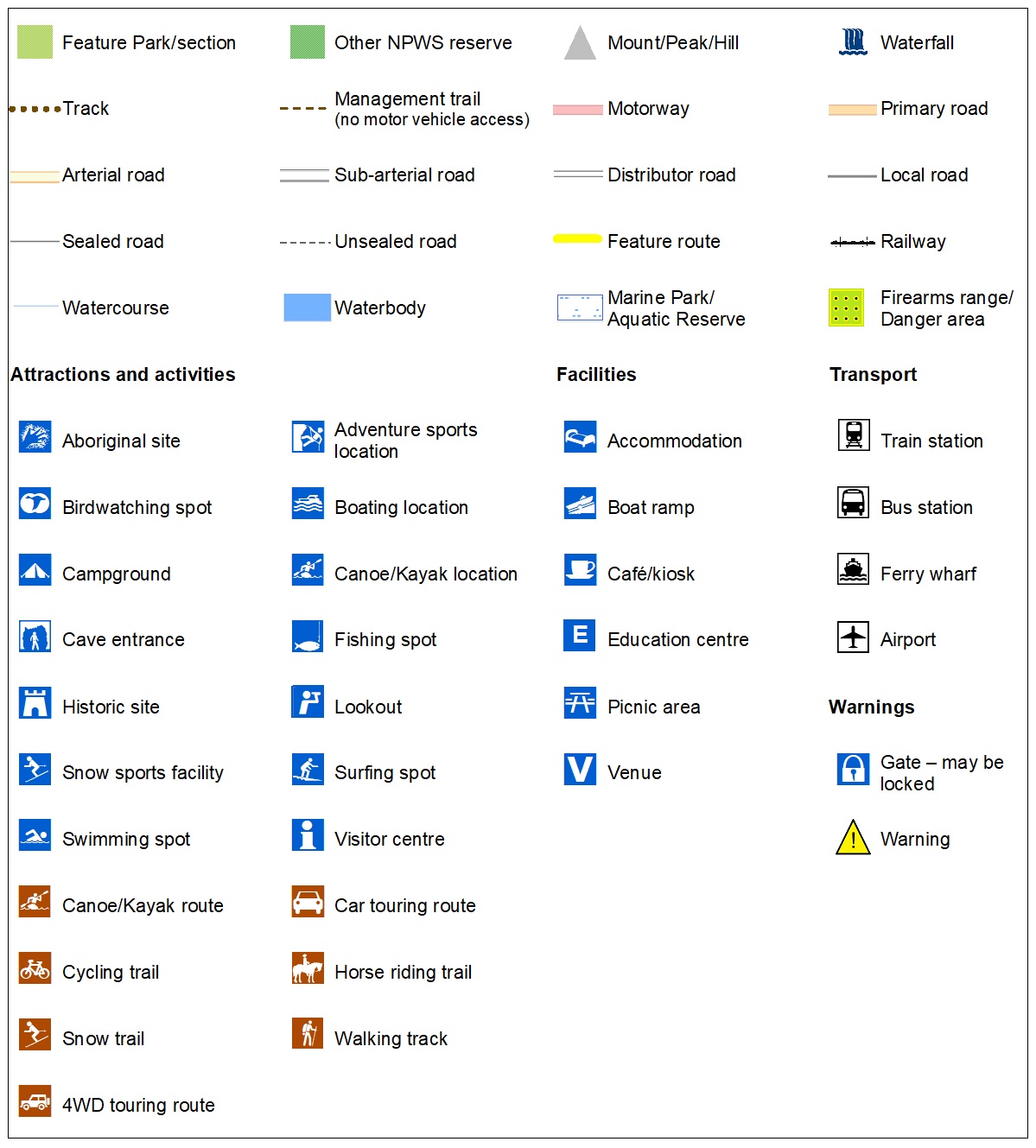 Contact
in the Outback NSW region

Sturt National Park is always open but may have to close at times due to poor weather or fire danger.

Park entry fees:

$8 per vehicle per day. The park has coin-operated pay and display machines - please bring correct coins.

Buy annual pass.

Tibooburra Visitor Centre
08 8091 3308
Contact hours: Tibooburra Visitor Centre is always open but it's unstaffed (self service)
51 Briscoe Street, Tibooburra NSW 2880

More
See more visitor info
Visitor info
All the practical information you need to know about Sturt National Park.
Getting there and parking
From Broken Hill, take the Silver City Highway through Packsaddle, Milparinka and Tibooburra.
From Bourke, travel to Wanaaring and onto Tibooburra.
Roads to and within the park may be closed in poor weather - it's a good idea to check conditions before you set out and take plenty of petrol and supplies.
Parking
By bike
Check out the Bicycle information for NSW website for more information.
Best times to visit
There are lots of great things waiting for you in Sturt National Park. Here are some of the highlights.
Autumn
A great time of year to visit when daytime temperatures are pleasant and night times not too chilly.
Spring
Depending on the rainfall the park's wildflowers, including the distinctive red Sturt Desert Pea will be on show throughout the park.
Weather, temperature and rainfall
Rainfall
Driest month
August and September
The area's highest recorded rainfall in one day
178.2mm
Facilities
Picnic tables
Barbecue facilities Show more
Showers
Maps and downloads
Fees and passes
Park entry fees:
$8 per vehicle per day. The park has coin-operated pay and display machines - please bring correct coins.
All Parks Pass - For all parks in NSW (including Kosciuszko NP) $190 (1 year) / $335 (2 years)
Multi Parks Pass - For all parks in NSW (except Kosciuszko) $65 (1 year) / $115 (2 years)
Country Parks Pass - For all parks in Country NSW (except Kosciuszko) $45 (1 year) / $75 (2 years)
Single Country Park Pass - For entry to a single park in country NSW (except Kosciuszko). $22 (1 year) / $40 (2 years)
Annual passes and entry fees (https://www.nationalparks.nsw.gov.au/passes-and-fees)
Visitor centre
Tibooburra Visitor Centre
51 Briscoe Street, Tibooburra NSW 2880
Tibooburra Visitor Centre is always open but it's unstaffed (self service)
Nearby towns
Broken Hill (351 km)
About 10 km from Broken Hill, in the middle of the Living Desert Reserve, is Sundown Hill, the site of the Living Desert Sculptures. Follow the easy walking trail that takes you past these beautiful sandstone sculptures, even more striking in this desert setting.
Wilcannia (361 km)
The small historic town of Wilcannia is located on the famous Darling River in the NSW outback. The nearby remote Mutawintji National Park offers a uniquely Australian experience, with its historic Aboriginal sites and captivating rugged desert terrain.
Bourke (781 km)
Around 50km north of Gundabooka National Park is the town of Bourke. Considered the "Gateway to the real outback", Bourke is home to around 3,000 people and has a range of places to eat, garages and services, and plenty of things to do.
Learn more
Sturt National Park is a special place. Here are just some of the reasons why:
Ancient connections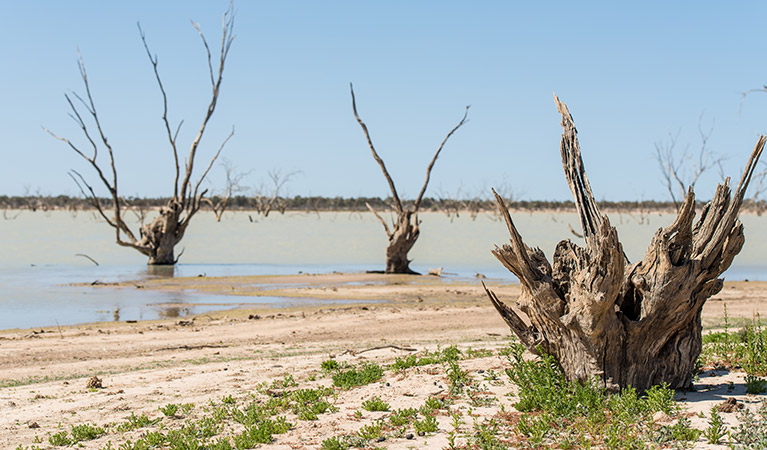 Sturt National Park is the traditional land of the Wangkumara People, whose Country extended from what is now southwest Queensland and northeast South Australia down through Tibooburra to Milparinka. The Wangkumara People travelled widely throughout this large and arid land to make the most of waterholes, permanent soaks, useful plants and animals. Today there is much evidence of the Wangkumara People's connection with this land - throughout the park you might notice middens and stone relics; reminders of the role this landscape played as the giver and sustainer of life.
Jump-Up walking track

Discover the landscape of Sturt National Park along the Jump-Up walking track; you're likely to see Aboriginal sites, wildflowers and kangaroos along the way.

Talpero lookout

Visit Talpero lookout for expansive desert views and see 'the big bandicoot' sculpture. It's located 2 hours from Tibooburra, near Fort Grey campground in Sturt National Park.
A vast and varied precious landscape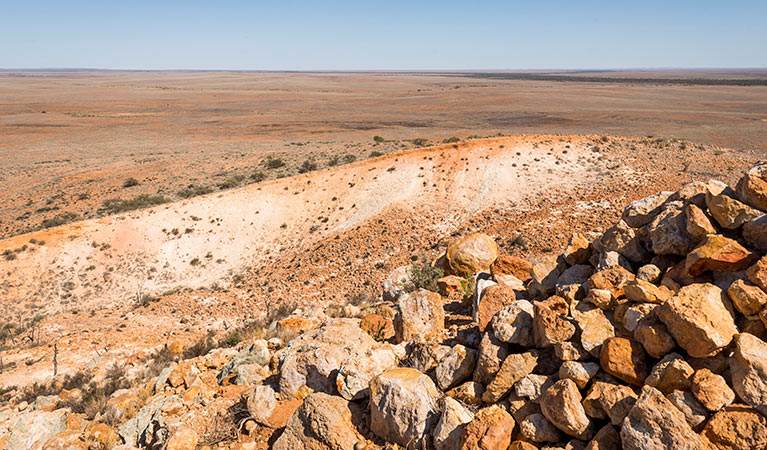 Tibooburra means 'heaps of rocks' in the local Aboriginal language, and you can't miss the rocks - ancient granite tors that surround Tibooburra and line the road on the way to the park. This contrasts with the red sand of the desert on the western side of the park and with the 'Jump Ups' that rise from the plains in the central part of the park. Wherever you go in Sturt National Park, you're sure to be inspired by the dramatic changes in scenery and amazed by the true scale of the vast, arid expanse of outback.
Jump-Up Loop Road drive

A fantastic self-guided car tour of the outback country of Sturt National Park, Jump-Up Loop Road drive offers scenic desert views, historic heritage and excellent birdwatching.

The Granites walking track

Explore the geological history of Sturt National Park along The Granites walking track. See wildflowers, kangaroos and lizards as you walk over the ancient boulders.
A waterbird oasis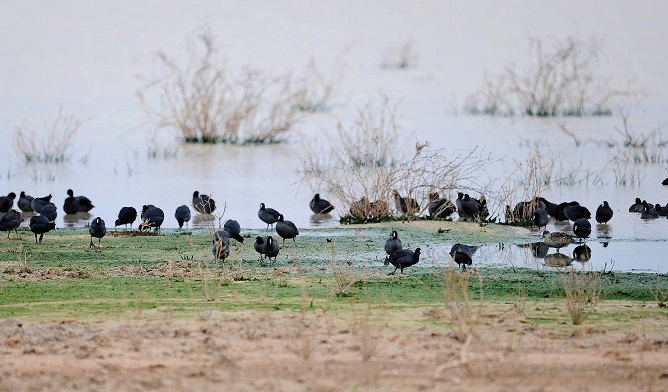 Lake Pinaroo is around 80 km north west of Tibooburra and 24km south east of Cameron Corner. It's an ephemeral lake, meaning it floods for short periods of time and then may not hold water for several years, depending on rainfall. In 1996, it was listed as an internationally important wetland under the Ramsar Convention because of its retention of water for long periods, and the rarity of wetlands in arid NSW. Lake Pinaroo plays a crucial role in the survival of many plants and animal species, and supports large numbers of waterbirds and waders, including international migratory species and threatened species. When full, Lake Pinaroo is a stunning contrast to the dry landscapes of Sturt National Park, and you can see waterbirds like the freckled and blue-billed ducks, as well as brolgas, grey falcons and budgerigars.
Heritage values of the homestead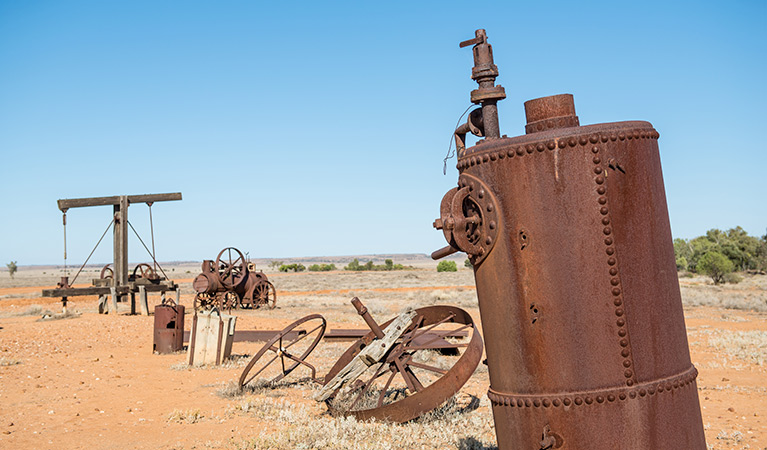 Historic Mount Wood Homestead is located on the oldest sheep station in northwest NSW, taken up around 1881. Listed on the State Heritage Register, it's one of the most complete examples of a self-reliant sheep station in the region, spanning 368,385 acres. It was a hub for washing sheep wool on the long journey by camel train or cart to Wilcannia, prior to shipping. Today, the woolscour is a rare example of a complete set of wool washing equipment, and the only 19th century station-based scour in NSW to survive intact. Surviving the harsh outback, you can still see the original stone hut built in 1890, a stone homestead (1897), and an art deco-styled homestead (1935). There's also a woolshed, shearers' quarters, woolscour, blacksmith shop, stables, windmills and outstations. The buildings provide a fascinating window into pastoral life and changing technology over almost 100 years.
Wells and Sturt's tree walking track

Retrace the footsteps of a famous explorer in the stunning and remote outback landscape of NSW's far north-west. You'll rediscover history, see majestic red river gums and cross a dry lakebed, near Cameron Corner.
Plants and animals protected in this park
Animals
With a wingspan of up to 2.5m, the wedge-tailed eagle is Australia's largest bird of prey. These Australian animals are found in woodlands across NSW, and have the ability to soar to heights of over 2km. If you're bird watching, look out for the distinctive diamond-shaped tail of the eagle.

Emu

(Dromaius novaehollandiae)

The largest of Australian birds, the emu stands up to 2m high and is the second largest bird in the world, after the ostrich. Emus live in pairs or family groups. The male emu incubates and rears the young, which will stay with the adult emus for up to 2 years.

The red kangaroo is one of the most iconic Australian animals and the largest marsupial in the world. Large males have reddish fur and can reach a height of 2m, while females are considerably smaller and have blue-grey fur. Red kangaroos are herbivores and mainly eat grass.
Plants
One of Australia's most famous desert wildflowers, Sturt's desert pea is found across inland arid regions of Australia, including far west NSW. One of the most easily-recognised Australian native plants, Sturt's desert pea thrives in red sandy soil, or loam, and has vibrant red leaf-shaped flowers with a black centre, known as a 'boss'.

Saltbush

(Atriplex nummularia)

A hardy Australian native plant, the saltbush is a small spreading shrub that can withstand dry salty soils such as those found in the desert plains of western NSW. It is grey-white in colour and has small spear-shaped succulent leaves. It flowers from December to April.
Environments in this park
Education resources (1)
What we're doing
Sturt National Park has management strategies in place to protect and conserve the values of this park. Visit the OEH website for detailed park and fire management documents. Here is just some of the work we're doing to conserve these values:
Understanding landscapes and geology
NPWS is dedicated to conserving the special natural assets of all its parks. The service works to ensure the expansive outback landscapes and granite tors of Sturt National Park are protected and preserved. Management and maintenance programs are in operation in this park, all of which are informed by sustainability considerations.
Preserving biodiversity
Sturt National Park upholds its biodiversity by protecting vulnerable, threatened and endangered species. Conservation activities are frequently carried out, and include monitoring and data collection. NPWS consults on issues potentially affecting biodiversity within the area, and implements programs in relation to this.
Managing weeds, pest animals and other threats
Pests and weeds have a significant impact to the ecosystems within Sturt National Park. NPWS carries out risk assessments for new and emerging weeds as well as fox and wild dog control to protect biodiversity in this park.
Historic heritage in our parks and reserves
Sturt National Park is home to a wealth of historic heritage, and NPWS is committed to its protection. Raising public awareness of the park's history and cultural significance is a key priority, and interpretive and educational events are ongoing. Historic structure maintenance is carried out in this park, along with conservation assessments and the surveying and recording of heritage assets.
Conserving our Aboriginal culture
Sturt National Park is home to a number of significant but fragile Aboriginal sites. NPWS liaises regularly with local land councils and involves the Aboriginal community in site management. Conservation assessments and impact surveys are regularly carried out, along with concerted efforts to protect and preserve these sites. NPWS promotes research into park heritage, and interpretive displays are maintained to promote greater appreciation of Aboriginal culture.
Managing fire
NSW is one of the most bushfire prone areas in the world as a result of our climate, weather systems, vegetation and the rugged terrain. NPWS is committed to maintaining natural and cultural heritage values and minimising the likelihood and impact of bushfires via a strategic program of fire research, fire planning, hazard reduction, highly trained rapid response firefighting crews and community alerts.