Selwyn area
Kosciuszko National Park
Overview
The Selwyn area is your perfect base to explore the walks, rides and top fishing spots of central Kosciuszko National Park. Selwyn Snow Resort and historic Kiandra are closed due to severe fire damage.
Read more about Selwyn area
Located between Cooma and Tumut, the Selwyn area is the main gateway to central and northern Kosciuszko National Park.
Selwyn Snow Resort, a winter favourite for families, first timers and pros, is closed due to severe fire damage. Only 2.5hrs from Canberra, it offered some of the best value day skiing and snow play in NSW.
Nearby Kiandra is where skiing got its start in Australia, and in its heyday was home to Australia's highest, coldest and shortest gold rush. This historic town along the Snowy Mountains Highway is also closed due to fire damage.
There are plenty of activities year-round so why not find a quiet campsite by Three Mile Dam campground. Then set out on foot amongst the heath and snow gums along Goldseekers track. In winter, swap hiking boots for cross-country skis or snowshoes.
The high plains east of the highway boast a network of summer mountain bike and horse riding trails. There's fine trout fishing for anglers in the streams and reservoirs, or at Eucumbene Dam, near Adaminaby. Base yourself at one of our lesser-known campgrounds, like Denison campground.
When you're ready to move on, visit Australia's highest town, Cabramurra, along the scenic drive to Khancoban or Tumbarumba. Yarrangobilly Caves is around 30km north along the highway.
Map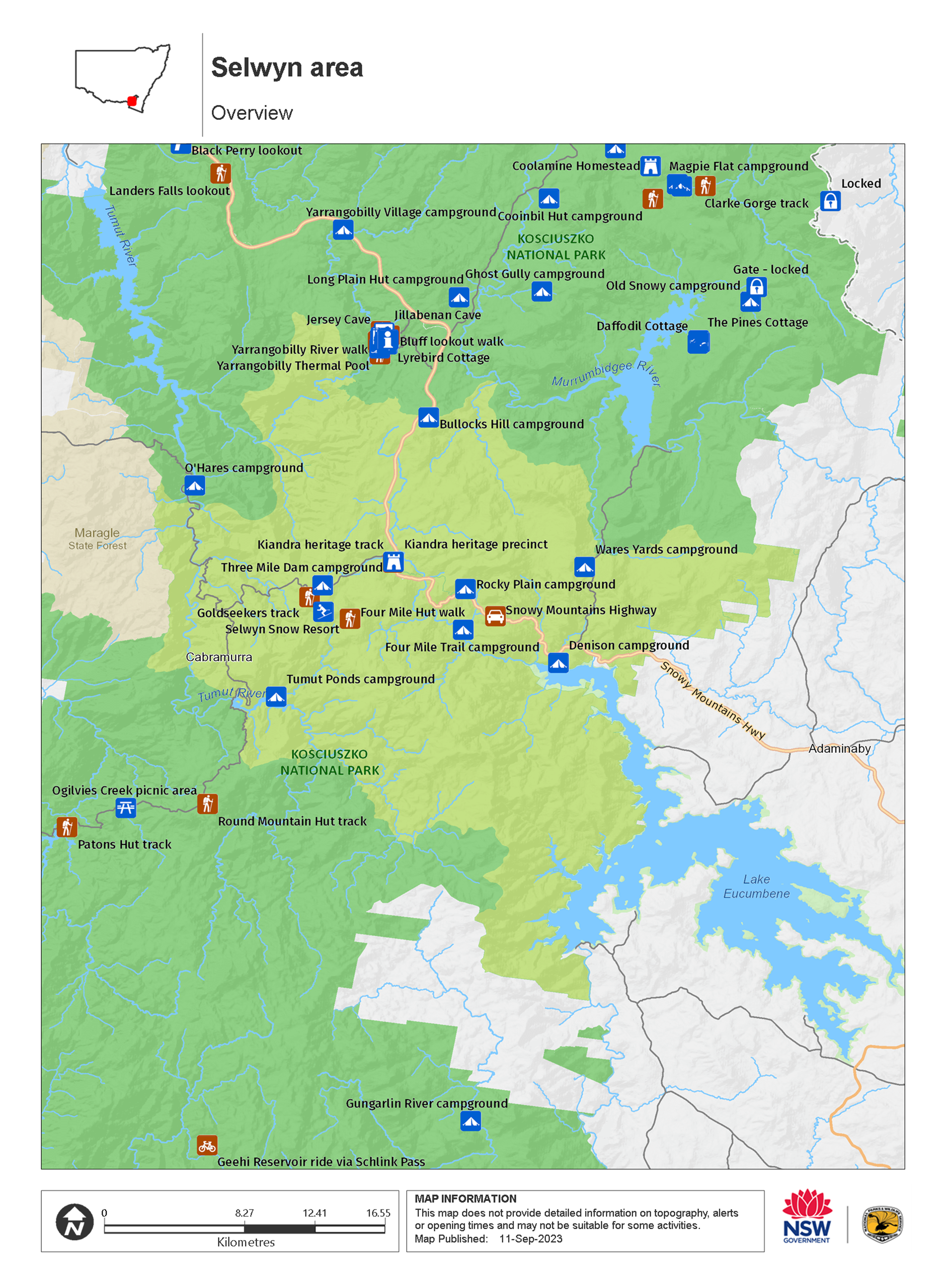 Map legend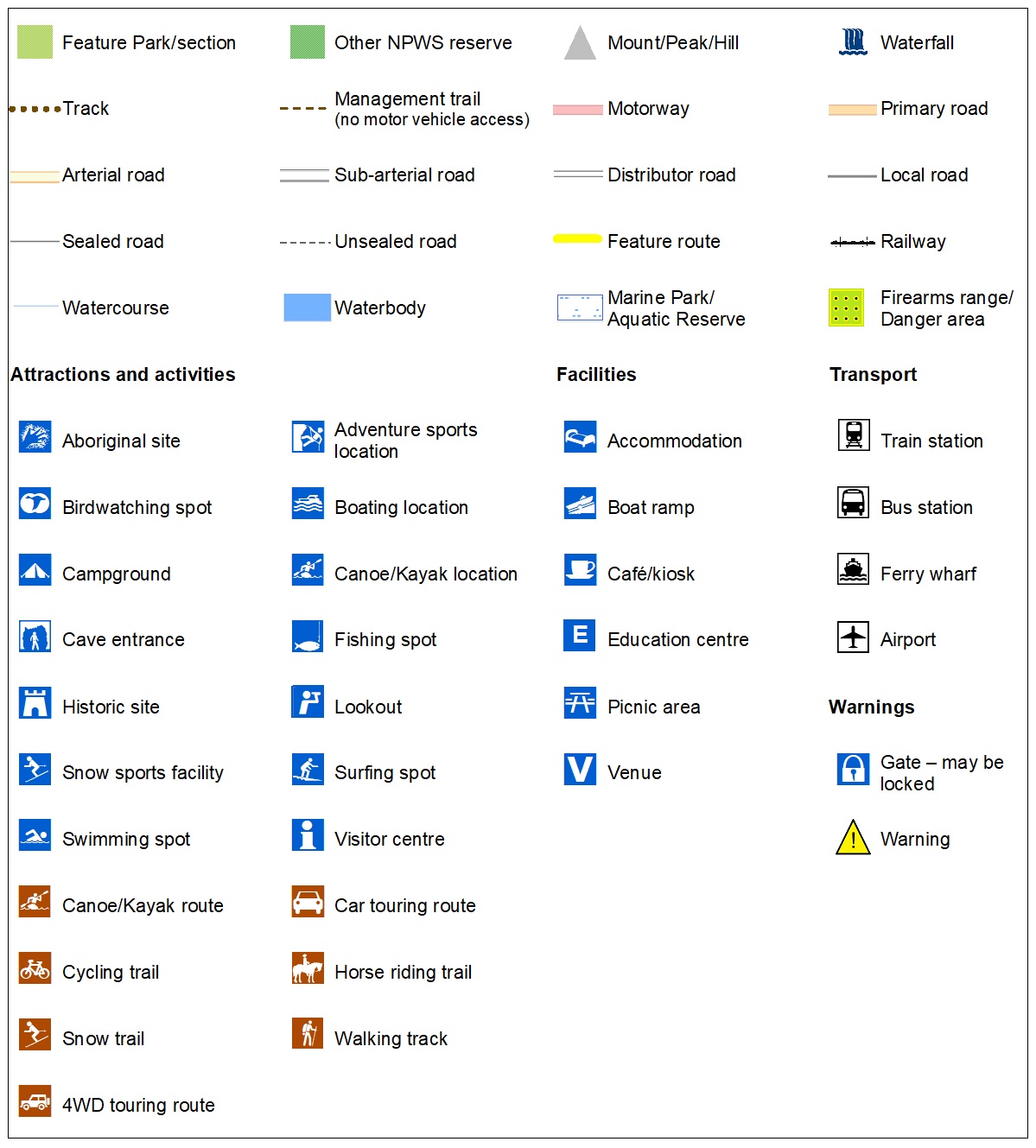 Contact
in Kosciuszko National Park in the Snowy Mountains region

The Selwyn area is open all year, but some roads and trails may close due to weather conditions or park management issues. Kings Cross Road and the Khancoban-Cabramurra Road are closed in winter (June to October long weekends). Some campgrounds in the Selwyn area close in winter.

Park entry fees apply in winter on Link Road

June to October long weekends: $29 per vehicle per day (24hrs from purchase); motorcycles $12; bus passengers $11.45 per adult, $3.60 per child per day (24hrs).

See vehicle entry fees for other areas in Kosciuszko National Park.

Buy annual pass.

Tumut Region Visitor Centre
02 6947 7025
Contact hours: 9am to 5pm daily. Closed Christmas Day.
The Old Butter Factory, 5 Adelong Road, Tumut NSW 2720

More
See more visitor info
Visitor info
All the practical information you need to know about the Selwyn area.
Getting there and parking
To get to this area of Kosciuszko National Park:
From Cooma via Adaminaby:
Travel south through Cooma for 7km

Turn right at the signs to Adaminaby and Kiandra, to continue along Snowy Mountains Highway for around 90km to Kiandra

For Mt Selwyn, turn left onto Link Road at Kiandra
From Tumut:
Take Snowy Mountains Highway south for around 90km to Kiandra
From Tumbarumba:
Take Tooma Road south and turn onto Elliott Way
From Khancoban:
Take Khancoban to Cabramurra Road (closed winter)
The nearest fuel and supplies are located in Adaminaby, Cooma, Talbingo, Tumut, and Tumbarumba. Limited services in Cabramurra.
If you're driving to Kosciuszko National Park, you'll now pass traffic monitoring cameras on the way to Selwyn Snow Resort. Learn more.
Parking
Road quality
Snow chains:
The Roads and Maritime Service (RMS) recommends snow chains are carried by all vehicles driving in the park in winter, including 4WD and AWD, in the event of extreme weather. Visit the Live Traffic website for current conditions.
Road closures:
The Khancoban to Cabramurra Road and Kings Cross Road are closed in winter (June to October long weekends).
Best times to visit
The Selwyn area has plenty of activities to tempt you year-round. Here are some of the highlights.
Autumn
Autumn brings milder temperatures and clear blue skies that are made for hiking, mountain biking and horse riding in the Snowy Mountains. It's also your last chance to fish in the mountain streams before winter.
Spring
Rediscover the great outdoors and breathe in the fresh mountain air with a bushwalk, mountain bike ride, or camping getaway. The October long weekend brings the opening of fishing season for rivers and streams, so try your luck hooking a trout on the Eucumbene River.
Summer
With wildflowers at their peak, it's a fine time for a day walk or camping adventure. Pitch your tent or pull up your camper at one of the designated campgrounds for a night under the stars.
Winter
Selwyn Snow Resort put on some of the most affordable snow sports in NSW, including skiing and snowboarding, tubing, tobogganing, snowshoeing and cross-country skiing. The resort is closed due to severe fire damage. More information is available on the Selwyn Snow Resort website, including plans to rebuild. Some trails in the Selwyn area can be experienced by snow shoe or cross-country skiing.
Facilities
Toilets
Picnic tables
Barbecue facilities
Drinking water
Maps and downloads
Permitted
Cycling
Cycling is permitted on public roads, and on management trails outside wilderness areas. Within the Jagungal Wilderness Area, you can cycle only on Round Mountain trail, Dargans trail, Hellhole Creek trail, Valentine trail, and Grey Mare trail. Riders please give way to walkers.
Fishing
You can fish in rivers and streams between the October and June long weekends. A current NSW recreational fishing licence is required to fish in all waters. Fishing in dams and lakes is permitted year-round, but some waterways may close temporarily or have restrictions. Refer to the NSW Recreational Freshwater Fishing Guide for information.
Horses
Horse riding and mountain biking are permitted on most management trails on the eastern side of the Snowy Mountains Highway, except wilderness areas. You can also ride the first section of Four Mile Hut walking track. Please stay on established trails. Bike riders should give way to walkers and horse riders.
Campgrounds with facilities to camp with horses include: Wares Yards, Rocky Plain, and Bullocks Hill campgrounds in the Selwyn area; Cooinbil Hut, Long Plain Hut, Ghost Gully, and Old Snowy campgrounds in the High Plains area.
Prohibited
Firearms, chainsaws and fossicking are not permitted in Kosciuszko National Park.
Drones
Flying a drone for recreational purposes is prohibited in this area. Drones may affect public enjoyment, safety and privacy, interfere with park operations, or pose a threat to wildlife. See the Drones in Parks policy.
This area may be a declared Drone Exclusion Zone, or may be subject to Civil Aviation Safety Authority (CASA) rules for flying near airports, aerodromes and helicopter landing sites. See CASA's Drone Flyer Rules.
Commercial filming and photography
Commercial filming or photography is prohibited without prior consent. You must apply for permission and contact the local office.
Pets
Pets and domestic animals (other than certified assistance animals) are not permitted. Find out which regional parks allow dog walking and see the pets in parks policy for more information.
Smoking
NSW national parks are no smoking areas. The alpine resorts of Selwyn, Thredbo, Perisher, Charlotte Pass, Ski Rider and Kosciuszko Tourist Park are exempt, though some commercial and outdoor places within these resorts may have no smoking areas.
Nearby towns
Adaminaby (14 km)
Visit the fascinating Snowy Scheme Museum at Adaminaby to learn about the Snowy Mountains Hydro-electric Scheme. Find out about the achievements of the engineers, the workers, the machinery and the role the project played in the development of the modern Australian nation. The museum is open on weekends.
Tumbarumba (50 km)
Cooma (65 km)
The Snowy Hydro Discovery Centre is a state-of-the-art visitor facility showcasing the story of the Snowy Mountains Hydro-Electric Scheme from the early construction days to the role the scheme plays today in the development of Australia.
Tumut (79 km)
Tumut is a country town on the northern foothills of the Snowy Mountains. The Rolling valleys, mountain streams and alpine mountain ranges make it popular for nature lovers and adventure enthusiasts.
Learn more
Selwyn area is a special place. Here are just some of the reasons why:
Kiandra's claims to fame
The discovery of gold at Kiandra in 1859 attracted up to 10,000 prospectors hoping to strike it rich. Just 18 months later, after harsh winters and falling gold finds, only a few hundred gold miners remained. It's remembered as one of Australia's shortest gold rushes, not to mention it's highest (and coldest). In 1861, Kiandra became the birthplace of skiing in Australia, when Norwegian gold miners fashioned skis from fence palings. By the 1870s regular ski carnivals were arranged, and Australia had its first official ski slope here. Mining continued into the 1930s, with grazing and winter skiing also keeping the community alive. Before devastating fires in 2019-2020, four buildings still stood here, including Kiandra Courthouse, which had served as a courthouse, private residence, ski chalet, hotel and bar.
Plants and animals you may see
Animals
A large, squat marsupial, the Australian bare-nosed wombat is a burrowing mammal found in coastal forests and mountain ranges across NSW and Victoria. The only other remaining species of wombat in NSW, the endangered southern hairy-nosed wombat, was considered extinct until relatively recently.

Platypus

(Ornithorhynchus anatinus)

One of the most fascinating and unusual Australian animals, the duck-billed platypus, along with the echidna, are the only known monotremes, or egg-laying mammals, in existence. The platypus is generally found in permanent river systems and lakes in southern and eastern NSW and east and west of the Great Dividing Range.

With a wingspan of up to 2.5m, the wedge-tailed eagle is Australia's largest bird of prey. These Australian animals are found in woodlands across NSW, and have the ability to soar to heights of over 2km. If you're bird watching, look out for the distinctive diamond-shaped tail of the eagle.
Plants
Billy buttons are attractive Australian native plants that are widespread throughout eastern NSW in dry forest, grassland and alpine regions such as Kosciuszko National Park. The golden-yellow globe-shaped flowers are also known as woollyheads. Related to the daisy, billy buttons are an erect herb growing to a height of 50cm.
Environments in this area
What we're doing
Selwyn area has management strategies in place to protect and conserve the values of this park. Visit the OEH website for detailed park and fire management documents. Here is just some of the work we're doing to conserve these values:
Preserving biodiversity
Kosciuszko National Park plays an important role in conserving NSW's biodiversity by protecting its vulnerable, threatened and endangered species. Conservation activities carried out in the Selwyn area include monitoring the habitat, distribution and population of threatened species, including the mountain pygmy-possum and smoky mouse.
Managing weeds, pest animals and other threats
Pests and weeds have a significant impact on the ecosystems and habitats within Kosciuszko National Park. Pest species control is an important part of the work NSW National Parks and Wildlife Service (NPWS) does to protect the integrity of the Selwyn area.
Historic heritage in our parks and reserves
The historic heritage of Kosciuszko National Park is preserved through a variety of NPWS programs that embrace its past. Heritage revitalisation and adaptive reuse projects, with the assistance of volunteers and organisations like the Kosciuszko Huts Association, are ongoing in this park.
Developing visitor facilities and experiences
NPWS is committed to developing facilities for the enjoyment and safety of visitors to Kosciuszko National Park. Visitor feedback and environmental sustainability are key considerations in park maintenance, and upgrades are ongoing. Horse riding trails and camps are continually maintained and upgraded, and NPWS regularly reviews the park's recreational opportunities, identifying areas for improvement or addition. Hazard assessments are also ongoing.
Kosciuszko National Park has achieved Australia's first Ecotourism Destination Certification, through Ecotourism Australia, recognising best practice sustainable tourism and visitation in protected areas.
Managing fire
NSW is one of the most bushfire prone areas in the world due to our climate, weather systems, vegetation and the rugged terrain. NPWS is committed to minimising the likelihood and impact of bushfires via a strategic program of fire research, fire planning, hazard reduction, highly trained rapid response firefighting crews and community alerts.