Everlasting Swamp National Park
Overview
Everlasting Swamp National Park is a rare coastal wetland north of Grafton in the Clarence Valley. A hotspot for bird watching, you can explore the park and its wildlife from your canoe or bike.
Read more about Everlasting Swamp National Park
Known to bird watchers as the 'Kakadu of the south', Everlasting Swamp National Park is one of the largest freshwater wetlands on the NSW North Coast and protects 26 threatened species.
Take your binoculars because this park is superb for bird watching—especially after heavy rain when high water levels attract birdlife. You'll be thrilled to discover rare birds and even glimpse their courtship dances. Keep an eye out for black-necked storks in their huge stick nests, elegant brolgas bobbing and strutting with life-long mates, and black swans escorting their downy cygnets through the wetlands.
Jump in your canoe or kayak to paddle the meandering creeks lined with reeds and giant waterlilies. Bring your fishing rod to cast a line for bass and mullet in Sportmans Creek or explore its wooded creek banks by bike. If you've come to relax away from the crowds, picnic on the grass beneath the shade of old red gum trees as frogs croak and birds of prey circle overhead.
Contact
in the North Coast region

Everlasting Swamp National Park is open all year, but may have to close at times due to weather conditions or fire danger.

Grafton office
02 6641 1500
Contact hours: Monday to Friday, 8.30am to 4.30pm.
Level 4, 49 Victoria Street, Grafton NSW 2460

More
See more visitor info
Visitor info
All the practical information you need to know about Everlasting Swamp National Park.
Map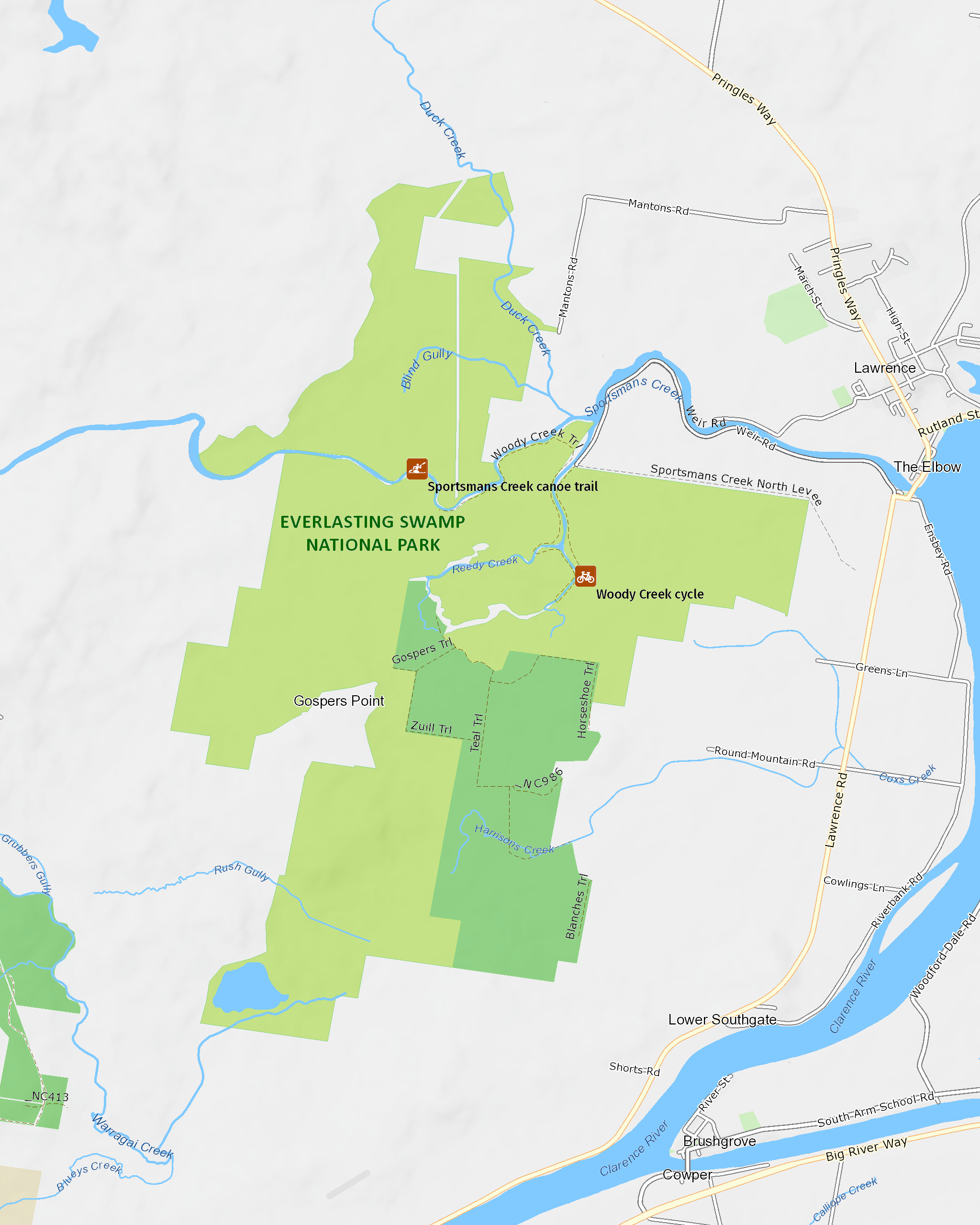 Map legend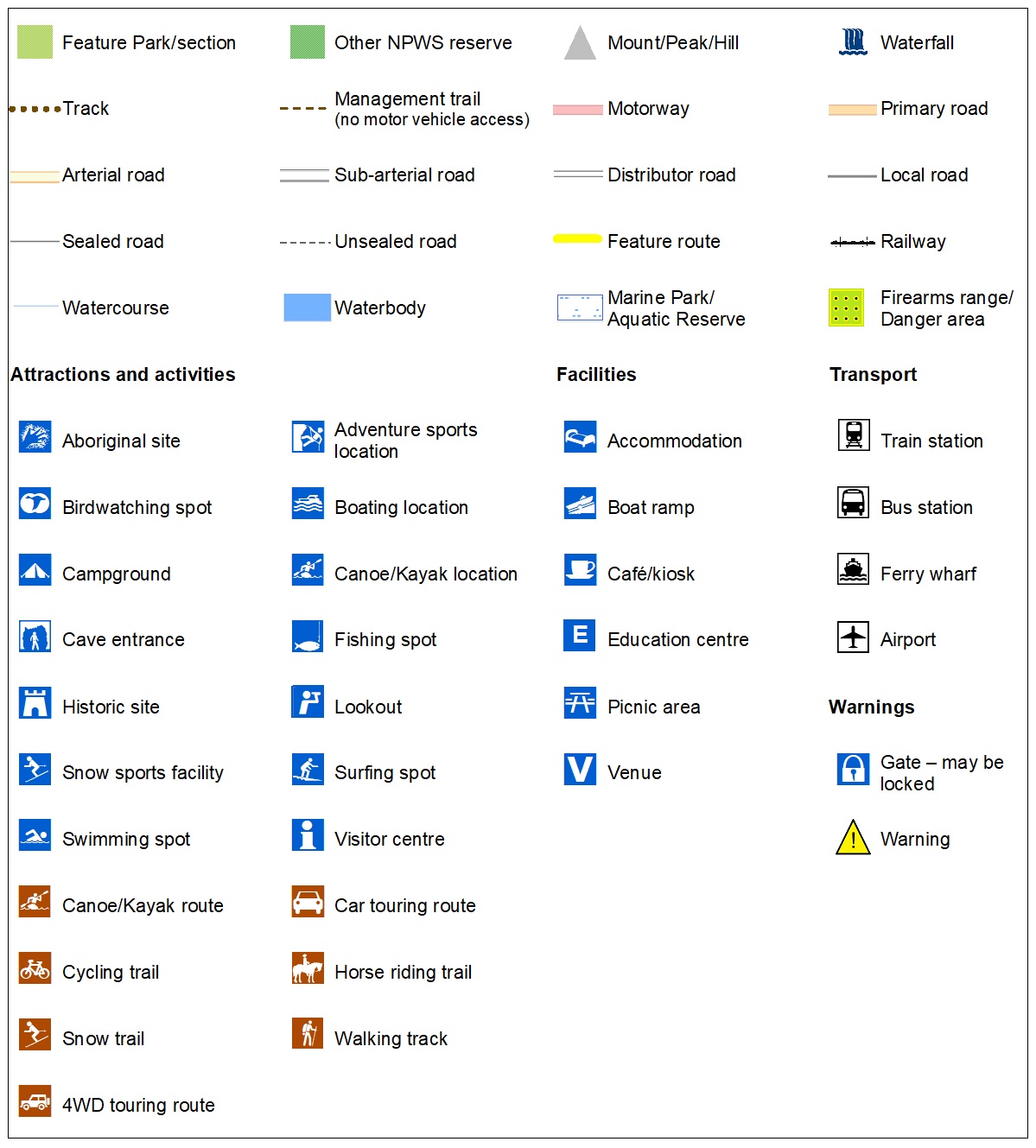 Getting there and parking
Everlasting Swamp National Park is located along NSW Tourist Drive 22. To get there from Grafton:
Drive 20km north-east on Lawrence Road. Veer left on the Sportsmans Creek bridge at the blue national park sign (with a paddle symbol).
Continue on Weir Road for 4.5km to the park entrance
Continue south along the side of the creek until you see the Everlasting Swamp National Park entrance sign
Please keeps gates as they were when you arrived. If gates are open, leave them open. If gates are closed, be sure to shut them after you pass through.
Parking
Road quality
The final 1km is high quality unpaved road. This and other roads in the area close during major Clarence River floods. There's a high potential for vehicle bogging in this park.
Parking
Parking is available on the gravel area just inside the park entrance—after the end of the sealed road and past the historic weir.
Best times to visit
In Everlasting Swamp National Park there are always new things and places to explore as the wetland changes with the seasons. Here are some highlights.
Autumn
This is high season for twitchers. Bring your binoculars for a good look at black-necked storks in their nests and other wading birds. See large migrating flocks pass through, especially in wetter years. It's your last chance to fish for bass as the season ends on 30 April.
Spring
It's a great time to see black swans with their cygnets and if you're lucky, pairs of brolgas or jabiru guiding their young. If you're coming for a paddle, bring your rod and reel because bass season opens on 1 September.
Summer
As summer rains fill the wetland, it truly comes alive and frogs begin to breed. Now's the time to fish and explore new areas of the park by kayak or canoe. Come prepared because there's not a lot of shade in this park.
Winter
The wetland dries and birdlife retreats to patches of still-deep water. Come in mid-August to witness brolgas bob and leap in flamboyant courtship dances—a must-see. Cool, sunny days are perfect to explore Everlasting Swamp by bike and canoe down Sportsmans Creek.
Facilities
There are no facilities or drinking water in this national park.
Maps and downloads
Permitted
Camp fires and solid fuel burners
Camping
Please note there are no campsites or facilities in this park.
Fishing
A current NSW recreational fishing licence is required when fishing in all waters.
Nearby towns
Maclean (22 km)
Maclean is a fishing port and service centre for the local farmlands. It's located inland on undulating terrain along the Clarence River.
Grafton (33 km)
Grafton is a gracious, historic city in the Clarence Valley farming district. It's situated on the broad Clarence River and surrounded by river flats.
Learn more
Everlasting Swamp National Park is a special place. Here are just some of the reasons why:
Plants and animals protected in this park
Animals
Plants
Grey mangrove is the most common and widespread mangrove found within intertidal zones across Australia, and throughout the world. Growing to a height of 3-10m, they thrive best in estuaries with a mix of fresh and salt water. They excrete excess salt through their long thick leaves, and absorb oxygen through their aerial root system.
Environments in this park
Understanding landscapes and geology
To restore Everlasting Swamp's natural cycles, we must first know how the original wetland worked. We're studying the complex ways its waters behave over time and under different conditions, and considering future sea level rise and climate change. We're changing drainage and planting thousands of trees to give the over-drained wetland's fragile soils a chance to recover.
Preserving biodiversity
Everlasting Swamp National Park is a refuge for 26 threatened species and a haven for water birds in droughts. The park also protects a rare grouping of native plants called Coastal Floodplain Wetlands. To restore this plant community, including endangered species of rushes, we plant trees and species found only locally. We've also improved the wetland's ability to be a nursery for prawns and fish to support a healthy Clarence River fishery.
Managing animals, weeds and pests
We fence some areas of the wetland to keep new plantings safe from animals that would damage them. When planting, we disturb the fragile soil as little as possible to prevent weeds from getting a foothold. Water weeds, including water hyacinth, are a special challenge because they spread quickly after the wetland floods. Ongoing pig management programs help bird breeding success.
Preserving the park's historic heritage
At Everlasting Swamp National Park we preserve features from the wetland's history to share them with you. Historic levees, water troughs, fence posts and a holding yard remind us of the landscape's past use for cattle and crop farming.
Developing visitor facilities and experiences
We're improving paddling, bird watching, fishing, cycling and bushwalking experiences. Our self-guided tour app is an ideal way for bird watchers to explore this biodiversity hotspot. We've added signage including a spot to 'snap and share' photos with us, so together we can record the wetland's journey toward rejuvenation.