Mount Kosciuszko Summit walk
Kosciuszko National Park
Overview
Get ready for a day of high altitude adventure. Hike or ride from Charlotte Pass to the summit of Mount Kosciuszko, through the high peaks of Kosciuszko National Park. Take a virtual tour of Mount Kosciuszko Summit walk captured with Google Street View Trekker.
Where

Distance

18.6km return

Time suggested

6 - 8hrs

Grade

Price

Free

Entry fees

Park entry fees apply

Opening times

This walk is closed in winter (June to October long weekends) as it is snowbound.

What to
bring

Drinking water, hat, snacks, sunscreen, clothes for all weather conditions, sturdy shoes

Please note

The track from Rawson Pass to the summit of Mount Kosciuszko is accessible by foot only. Bike stands are available at Rawson Pass.
Weather in this area can be extreme and unpredictable so please ensure you're well-prepared for your visit, and read our safety tips before you set out.
It's a good idea to check the Think Before You Trek website when planning your hike, and bring a topographic map and compass, or a GPS.
This summer track is popular with nature loving hikers and mountain bikers keen for an outdoor adventure. Set out along the old road to Mount Kosciuszko, and have your camera ready for the glorious views of Australia's highest mountains, historic huts, weathered snow gums and rock formations on the way. Admire amazing displays of wildflowers including marsh marigolds, silver snow daisies, mountain roses, and buttercups in early summer.
Around 4.5km from Charlotte Pass the Snowy River offers a scenic spot for a picnic. Cross the river and continue your walk or ride as the track winds slowly up to Seaman's Hut, which was built in 1929, before carrying on to Rawson Pass. If riding, leave your bike at Rawson Pass (bike stands are available) and walk the 1.4km to the summit of Mount Kosciuszko (2228m).
Return to Charlotte Pass along the same track. If you're after a challenge and come well-equipped, combine this walk with the longer Main Range walk, or join the Thredbo to Mount Kosciuszko walk.
Promotional:
Are you planning a long hike, off-track and overnight adventures, or visiting a remote part of Kosciuszko National Park? We recommend you fill in a trip intention form and carry a personal locator beacon (PLB) for your safety. Find out more about the free trip intention form.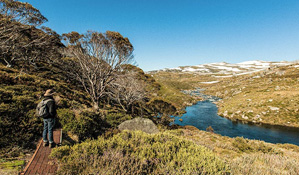 Promotional:
Stories, ideas and inspiration to get you exploring the best nature NSW has to offer. Whether you're looking to escape the rat race, break a sweat, or just get out of the house, dare to experience new things.
Park info
in Kosciuszko National Park in the Snowy Mountains region

Kosciuszko National Park is open all year round but at times some roads and trails close due to weather conditions or other park management issues, for details click on the alerts button or select contact to get in touch with visitor centre staff.

Park entry fees:

Winter (Alpine Way, Kosciuszko Rd and Link Road) From start of June 2016 long weekend to end of October 2016 long weekend: $29 per vehicle per day (24hrs); motorcycles $12; bus passengers $11.45 per adult, $3.60 per child per day(24hrs). Find out more about the Winter entry surcharge.

Rest of the year (Alpine Way and Kosciuszko Road only) $17 per vehicle per day (24hrs); motorcycles $7; bus passengers $6.60 per adult, $2.20 per child per day (24hrs).

Yarrangobilly Caves (year-round): $4 per vehicle per day, unless park entry has been paid.

Passes: Day passes (based on daily entry fees above), multi-day passes and annual All Parks Pass available from local visitor centres, local agents and operating vehicle entry stations. Read our Annual Pass FAQs for information on upgrades. Short Breaks Pass: $68 for five-days park entry at price of four days (not valid winter). Pensioners are exempt from park entry fees. Download the exemption form.

Buy an annual pass.
More
More

Khancoban
(02) 6076 9373
(02) 6076 9382
Contact hours: 9am-4pm (closed 12.30pm-1pm) Monday to Friday. Open daily during peak summer season and school holidays.
Scammell Street, Khancoban NSW
Fax: (02) 6076 9567

More

Yarrangobilly Caves
(02) 6454 9597
Contact hours: 9am-5pm daily (closed Christmas Day)
Snowy Mountains Highway, Yarrangobilly Caves
Fax: (02) 6454 9598

More

School excursion inquiries - Kosciuszko Education Centre
(02) 6451 3700


More
See more visitor info