Kosciuszko National Park
Overview
Winter or summer, Kosciuszko National Park spoils you with snow sports and mountain biking, camping or cave tours, hiking, history and horse riding, amongst Australia's high alpine scenery.
Read more about Kosciuszko National Park
Enjoy skiing or snowboarding on the highest runs in the country, at Thredbo, Perisher or Mt Selwyn. Try snowshoeing or cross country skiing in the Snowy Mountains, or simply sit back and enjoy this winter wonderland and the alpine village vibe.
In the warmer months, hike to Australia's highest mainland mountain, go boating, fishing or 4WDing, and have your camera ready for the dazzling spring wildflowers. Escape the summer heat underground in the magical Yarrangobilly Caves. Adventure seekers can get their thrills mountain biking or join one of many adventure tours. Or, seek solitude at a riverside campground or mountain cottage.
Explore this certified Ecotourism Destination for a weekend or week, NSW's largest national park offers such vast and varied riches, there's always something new to experience.
Promotional:
Are you planning a long hike, off-track and overnight adventures, or visiting a remote part of Kosciuszko National Park? We recommend you fill in a trip intention form and carry a personal locator beacon (PLB) for your safety. Find out more about the free trip intention form.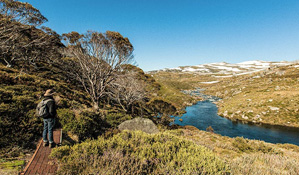 Promotional:
From Spring, the Snowy Mountains swaps snow for a glorious blanket of alpine wildflowers, bucket list walking tracks and epic mountain bike trails. Explore limestone caves or wet your line - there's tasty trout to be caught to fuel your alpine adventure at the top of Australia.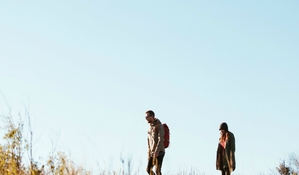 Contact
in the Snowy Mountains region

Kosciuszko National Park is open all year round but at times some roads and trails close due to weather conditions or other park management issues, for details click on the alerts button or contact one of the park's visitor centres.

Park entry fees:

Winter (Alpine Way, Kosciuszko Rd and Link Road) From start of June long weekend to end of October long weekend: $29 per vehicle per day (24hrs); motorcycles $12; bus passengers $11.45 per adult, $3.60 per child per day(24hrs). Find out more about the Winter entry surcharge.

Rest of the year (Alpine Way and Kosciuszko Road only) $17 per vehicle per day (24hrs); motorcycles $7; bus passengers $6.60 per adult, $2.20 per child per day (24hrs).

Yarrangobilly Caves (year-round): $4 per vehicle per day, unless park entry has been paid.

Passes: Day passes (based on daily entry fees above), multi-day passes and annual All Parks Pass available from local visitor centres, local agents and operating vehicle entry stations. Read our Annual Pass FAQs for information on upgrades. Short Breaks Pass: $68 for five-days park entry at price of four days (not valid winter). Pensioners are exempt from park entry fees. Download the exemption form.

Buy an annual pass.

Snowy Region Visitor Centre - Jindabyne
(02) 6450 5600
Contact hours: 8.30m-4.30pm daily (closed Christmas Day)
49 Kosciuszko Road, Jindabyne NSW 2627
Email: srvc@environment.nsw.gov.au
Fax: (02) 6456 1249

More
More

Khancoban Visitor Centre
(02) 6076 9373
(02) 6076 9382
Contact hours: 9am-4pm (closed 12.30pm-1pm) Monday to Friday. Open daily during peak summer season and school holidays.
Corner Scammell Street and Alpine Way, Khancoban NSW 2642
Fax: (02) 6076 9567

More

Yarrangobilly Caves Visitor Centre
(02) 6454 9597
Contact hours: 9am-5pm daily (closed Christmas Day)
Yarrangobilly Caves Entrance Road, off Snowy Mountains Highway, Yarrangobilly Caves NSW
Fax: (02) 6454 9598

More

School excursion inquiries - Kosciuszko Education Centre
(02) 6451 3700


More

Perisher Office
(02) 6457 4444
Contact hours: Winter: 8am-4pm Monday to Friday, 8am-12pm and 1-4pm Saturday and Sunday. Summer: 8am-12pm and 1-4pm Monday to Friday. Closed Saturday and Sunday.
NPWS Building, 9914 Kosciuszko Road, Perisher Valley NSW 2624

More
See more visitor info