Yarrangobilly Caves
Kosciuszko National Park
Overview
Yarrangobilly Caves in Kosciuszko National Park is one of the most beautiful limestone karst systems in Australia and can be explored by the whole family.
Type

Show caves

Where

Accessibility

Hard

Price

Self-Guided South Glory Cave Tour: $18 adults, $13 concession, $45 families
Guided Cave Tour: $22 adults, $17 concession, $55 families
Two-Cave Pass: $30 adults, $23 concession, $75 families
Three-Cave Pass: $45 adults, $35 concession, $100 families (Note: the family price includes 2 adults and up to 3 school-age children)
Daily tours are available for Jersey Cave and Jillabenan Cave. Tours also run during school holidays for other caves at Yarrangobilly.

Entry fees

Park entry fees apply for vehicles without a Kosciuszko National Park day pass or NPWS All Parks annual pass.

Opening times

The self-guided South Glory Cave is open 9.30am – 4pm (last tickets sold at 4pm).
From the October to June long weekends (inclusive): Guided tours of either Jersey Cave or Jillabenan Cave run at 10.30am, 12pm, 2pm and 3.30pm daily.
Between the June and October long weekends (the winter months): Guided tours of either Jersey Cave or Jillabenan Cave run at 11am, 1pm and 3pm daily.
All NSW school holidays: Additional guided tours and special Discovery tours run from 10am to 4pm daily.

Please note

If you want to inspect a particular cave, please phone Yarrangobilly Caves on (02) 6454 9597 to confirm the tour times for that day.
Customised tours can be arranged for groups from as small as 10, right through to school excursion of over 100 students.
There is no mobile reception in this area of the park.
Step into the depths of Yarrangobilly Caves and you'll discover stalagmites, stalactites and delicate decorations like shawls and cave corals. Explore six caves created from a belt of limestone laid down about 440 million years ago in Koscuiszko National Park.
The largest cave, called South Glory, with its lofty chambers, presents a unique opportunity to explore on a self-guided tour. The other caves, including Jersey and Jillabenan, are guided Discovery tours that run three or four times daily (closed Christmas Day). Tickets can be purchased from Yarrangobilly Caves Visitor Centre.
Come properly prepared for adventure: sturdy, enclosed shoes are a must and the caves are very cool, so bring a jacket even in the warmest weather. You'll also want to bring your swimmers because once you've explored what's below ground, you can take the short walk along Yarrangobilly Caves - River walk to the thermal pool above ground. Year-round, it stays at a constant 27ºC, and there's something quite magical about paddling here in the midst of winter when snow can lie around its edges.
There are also some other great walks, plenty of wildlife and birds to admire, and the beautifully restored Yarrangobilly Caves House or the the modern and spacious Lyrebird Cottage, where you can stay overnight.
Tours and events at this location
Every rock tells a story! Come and experience Yarrangobilly Caves on a special guided tour through geological time. This is a fun tour for all the family.
Promotional:
Sign up to our Naturescapes e-newsletter which is packed with information, new products, experiences and events in NSW national parks. Your next park adventure starts here.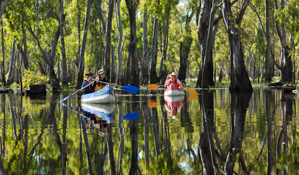 Conservation program:
An iconic endangered species, the southern corroboree frog, found only in Kosciuszko National Park, faces the grave threat of extinction. Saving Our Species aims to prevent this from happening by battling chytrid fungus, protecting frog habitat from pests, and fostering a captive breeding program.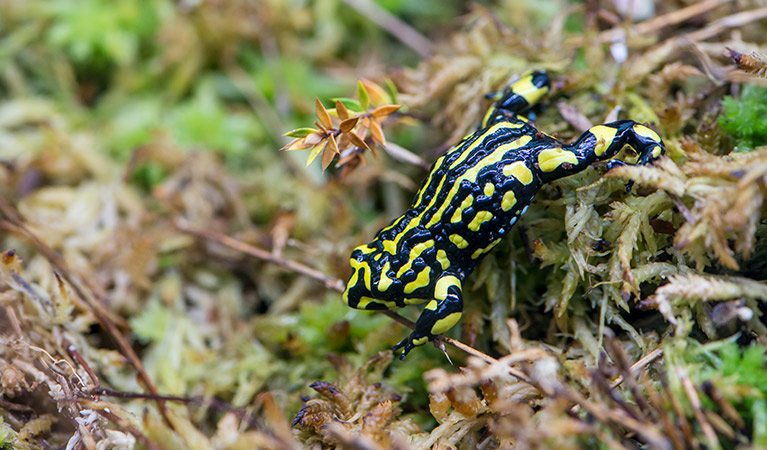 Operated by
Yarrangobilly Caves
9am-5pm daily (closed Christmas Day)
(02) 6454 9598
Snowy Mountains Highway, Yarrangobilly Caves
Park info
in Kosciuszko National Park in the Snowy Mountains region

Kosciuszko National Park is open all year round but at times some roads and trails close due to weather conditions or other park management issues, for details click on the alerts button or contact one of the park's visitor centres.

Park entry fees:

Winter (Alpine Way, Kosciuszko Rd and Link Road) From start of June long weekend to end of October long weekend: $29 per vehicle per day (24hrs); motorcycles $12; bus passengers $11.45 per adult, $3.60 per child per day(24hrs). Find out more about the Winter entry surcharge.

Rest of the year (Alpine Way and Kosciuszko Road only) $17 per vehicle per day (24hrs); motorcycles $7; bus passengers $6.60 per adult, $2.20 per child per day (24hrs).

Yarrangobilly Caves (year-round): $4 per vehicle per day, unless park entry has been paid.

Passes: Day passes (based on daily entry fees above), multi-day passes and annual All Parks Pass available from local visitor centres, local agents and operating vehicle entry stations. Read our Annual Pass FAQs for information on upgrades. Short Breaks Pass: $68 for five-days park entry at price of four days (not valid winter). Pensioners are exempt from park entry fees. Download the exemption form.

Buy an annual pass.
More
More

Khancoban
(02) 6076 9373
(02) 6076 9382
Contact hours: 9am-4pm (closed 12.30pm-1pm) Monday to Friday. Open daily during peak summer season and school holidays.
Scammell Street, Khancoban NSW
Fax: (02) 6076 9567

More

Yarrangobilly Caves
(02) 6454 9597
Contact hours: 9am-5pm daily (closed Christmas Day)
Snowy Mountains Highway, Yarrangobilly Caves
Fax: (02) 6454 9598

More

School excursion inquiries - Kosciuszko Education Centre
(02) 6451 3700


More

Perisher Office
(02) 6457 4444
Contact hours: Winter: 8am-4pm Monday to Friday, 8am-12pm and 1-4pm Saturday and Sunday. Summer: 8am-12pm and 1-4pm Monday to Friday. Closed Saturday and Sunday.
NPWS Building, 9914 Kosciuszko Road, Perisher Valley

More
See more visitor info