Currango Homestead
Kosciuszko National Park
Overview
Historic Currango Homestead in Kosciuszko National Park provides rustic eco-accommodation with walking, horse riding and caving adventures in the high plains of the park, near Blue Waterholes.
Accommodation Details
Accommodation type
Homestead
Bedrooms
4
Maximum guests
9
Facilities
Barbecue facilities, carpark, toilets
Please note

Reservations can be made for any arrival within the next 12 months. Find out more about our terms and conditions, and review frequently asked questions about staying in national parks.
Check in after 2pm. Check out before 11am.
Bedding configuration: 1 x double and 1 x single. 1 x double, 1 x single and 1 x cot. 1 single. 1 x twin.
Currango Homestead is shared accommodation, where you can hire one or more rooms.
A resident caretaker lives onsite in one half of the homestead - please contact the caretaker upon arrival.
A limited number of horses are permitted at Currango. Conditions apply.
The cottage is in a remote location, so it's a good idea to pick up your supplies and have a full tank of fuel in your vehicle before you arrive.
There's no internet or mobile phone coverage.
Please see visitor info for more information.

Price

Rates and availability are displayed when making an online booking.
Peak season: Friday, Saturday and Sunday nights. All school holidays periods in NSW, ACT and VIC. Public holiday Mondays.
Off-peak season: Monday - Thursday.
Off-peak: $40 per person per night (off-peak).

Entry fees

Please note park entry fees are not required to access Currango Homestead

Bookings

Use a secure payment gateway to book online. Alternatively, please contact the Customer Experience Team on 13000 PARKS (13000 72757). All reservations incur a booking fee of 2.5% in addition to the total amount payable
Nestled among the snowgums, Currango Homestead offers unique heritage eco-accommodation in the Australian Alps in Kosciuszko National Park. Registered on the National Estate, the historic homestead was built around 1895. It's ideal for large groups and families who want to experience the spectacular High Plains in true pioneer style.
On approach to Currango, you'll see the majestic pines that line the driveway, while resident kangaroos relax on the lawns. Running by solar power and with no mobile phone signal to distract from your break, you can experience the rustic charm of station life in this beautifully restored homestead.
When you're ready to explore, saddle up the horses and start your adventure along one of the trails accessible from Currango Homestead. If you're after more heart-pumping action, go mountain biking to Oldfields Hut and other historic huts in the area.
At the end of the day, as the sun goes down, relax on the verandah and soak up the spectacular views as the surrounding plains turn to gold.
Other buildings available for accommodation at Currango include Daffodil Cottage and The Pines Cottage.
Promotional:
Sign up to our Naturescapes e-newsletter which is packed with information, new products, experiences and events in NSW national parks. Your next park adventure starts here.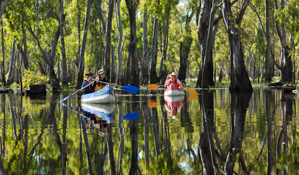 Conservation program:
An iconic endangered species, the southern corroboree frog, found only in Kosciuszko National Park, faces the grave threat of extinction. Saving Our Species aims to prevent this from happening by battling chytrid fungus, protecting frog habitat from pests, and fostering a captive breeding program.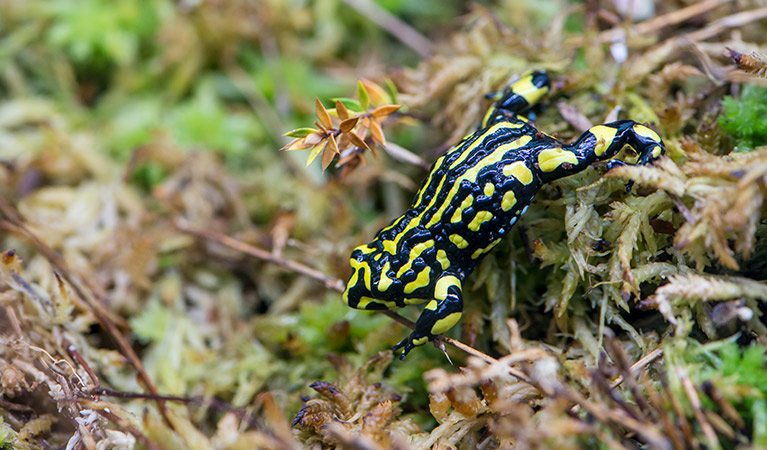 Operated by
Tumut Visitor Centre
9am-5pm daily (closed Christmas Day)
(02) 6947 3752
The Old Butter Factory, 5 Adelong Road, Tumut NSW 2720
Park info
in Kosciuszko National Park in the Snowy Mountains region

Kosciuszko National Park is open all year round but at times some roads and trails close due to weather conditions or other park management issues, for details click on the alerts button or contact one of the park's visitor centres.

Park entry fees:

Winter (Alpine Way, Kosciuszko Rd and Link Road) From start of June long weekend to end of October long weekend: $29 per vehicle per day (24hrs); motorcycles $12; bus passengers $11.45 per adult, $3.60 per child per day(24hrs). Find out more about the Winter entry surcharge.

Rest of the year (Alpine Way and Kosciuszko Road only) $17 per vehicle per day (24hrs); motorcycles $7; bus passengers $6.60 per adult, $2.20 per child per day (24hrs).

Yarrangobilly Caves (year-round): $4 per vehicle per day, unless park entry has been paid.

Passes: Day passes (based on daily entry fees above), multi-day passes and annual All Parks Pass available from local visitor centres, local agents and operating vehicle entry stations. Read our Annual Pass FAQs for information on upgrades. Short Breaks Pass: $68 for five-days park entry at price of four days (not valid winter). Pensioners are exempt from park entry fees. Download the exemption form.

Buy an annual pass.

Snowy Region Visitor Centre - Jindabyne
(02) 6450 5600
Contact hours: 8.30m-4.30pm daily (closed Christmas Day)
49 Kosciuszko Road, Jindabyne NSW 2627
Email: srvc@environment.nsw.gov.au
Fax: (02) 6456 1249

More
More

Khancoban Visitor Centre
(02) 6076 9373
(02) 6076 9382
Contact hours: 9am-4pm (closed 12.30pm-1pm) Monday to Friday. Open daily during peak summer season and school holidays.
Corner Scammell Street and Alpine Way, Khancoban NSW 2642
Fax: (02) 6076 9567

More

Yarrangobilly Caves Visitor Centre
(02) 6454 9597
Contact hours: 9am-5pm daily (closed Christmas Day)
Yarrangobilly Caves Entrance Road, off Snowy Mountains Highway, Yarrangobilly Caves NSW
Fax: (02) 6454 9598

More

School excursion inquiries - Kosciuszko Education Centre
(02) 6451 3700


More

Perisher Office
(02) 6457 4444
Contact hours: Winter: 8am-4pm Monday to Friday, 8am-12pm and 1-4pm Saturday and Sunday. Summer: 8am-12pm and 1-4pm Monday to Friday. Closed Saturday and Sunday.
NPWS Building, 9914 Kosciuszko Road, Perisher Valley NSW 2624

More
See more visitor info