Old Great North Road - World Heritage walk
Dharug National Park
Overview
Old Great North Road – World Heritage walk highlights a historic convict-built road with scenic river views, via Finchs Line, in Dharug National Park.
Where

Distance

9km loop

Time suggested

3hrs 30min - 4hrs 30min

Grade

Price

Free

What to
bring

Drinking water, hat, sunscreen

Please note

The weather in this area can be extreme and unpredictable, so please ensure you're well-prepared for your visit.
Bikes need to be walked down Devines Hill and the walking track section of Finchs Line.
Old Great North Road - World Heritage walk features a historic convict-built, some in chains, road overlooking the Hawkesbury River, in Dharug National Park. Returning via Finchs Line, this moderately steep track is popular with families and history buffs with some bushwalking experience.
Starting on Devines Hill loop, you'll pass the quarry, with historic graffiti carved in the rocks by convicts long gone. You can almost hear the sound of picks striking the blocks and the clinking of leg irons. Marvel at the craftsmanship of the beautifully preserved stonework that includes towering stone buttresses, culverts and even a curved wall. Unpack a picnic along the way and soak up the tranquil bush setting with scenic river views. Round off your day with a night under the stars at Mill Creek campground, only a short drive away.
Download the Convict Road app to learn about the hardships of the convicts who constructed the road. The app features two walks, short films about the convict experience, and expert commentary. Learn more about the World Heritage listing of Old Great North Road.
Take a virtual tour of Old Great North Road - World Heritage walk captured with Google Street View Trekker.
Tours and events at this location
Enjoy this historic play and learn about the convicts who built this road, now part of beautiful Dharug National Park.
Promotional:
Staged in a World Heritage-listed site, the award-winning Convict Footprints on the Old Great North Road play, in Dharug National Park, is 'theatre in the wild' at its finest, taking audiences on an historic journey of discovery back to the 1830s.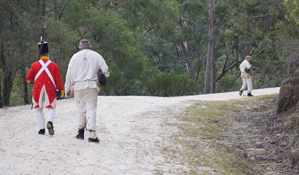 Conservation program:
Saving our Species is a innovative conservation program in NSW. It aims to halt and reverse the growing numbers of Australian animals and plants facing extinction. This program aims to secure as many threatened species that can be secured in the wild as possible, for the next 100 years.