Yuranigh's Aboriginal Grave Historic Site
Overview
The gravesite of Yuranigh, Sir Thomas Mitchell's Aboriginal assistant, is the only known site in Australia where Aboriginal and European burial practices coexist.
Read more about Yuranigh's Aboriginal Grave Historic Site
Yuranigh's grave is located just 4km south of Molong and 32km north of Orange. It's a significant historical site that bears witness to important early interaction between Aboriginal and European cultures.
Yuranigh, a Wiradjuri man, accompanied early explorer and surveyor Sir Thomas Mitchell on an expedition into the tropical interior of Australia in 1846. When Yuranigh died 4 years later, he was buried within a circle of carved trees, according to the traditional custom of his people. Out of respect, Mitchell also had a headstone placed over his grave. As a result, the gravesite contains a unique combination of Aboriginal and European burial customs that is not known of anywhere else in Australia.
Today, you can visit the peaceful cemetery and see a carved section of a trunk from one of the original burial trees. Take a moment to pause by Yuranigh's grave. The original sandstone headstone was donated by Mitchell, as well as a marble headstone that was later installed in 1900. The inscription on the headstone reads: 'To native courage honesty and fidelity Yuranigh who accompanied the expedition of discovery into tropical Australia in – 1846 – lies buried here according to the rites of his countrymen and this spot was dedicated and enclosed by the Governor General's authority in 1852.'
An interpretive sign explains more about the history of this special site. Other signs contain diagrams of all of Yurnigh's burial tree carvings.
Contact
in the Country NSW region

Yuranigh's Aboriginal Grave Historic Site is always open but may have to close at times due to poor weather or fire danger.

Bathurst office
02 6332 7640
02 6332 7680 To contact the KARST Conservation Unit in this office.
Contact hours: Monday to Friday, 8.30am to 4.30pm.
Level 2, 203-209 Russell Street, Bathurst NSW 2795

More
See more visitor info
Visitor info
All the practical information you need to know about Yuranigh's Aboriginal Grave Historic Site.
Map
Map legend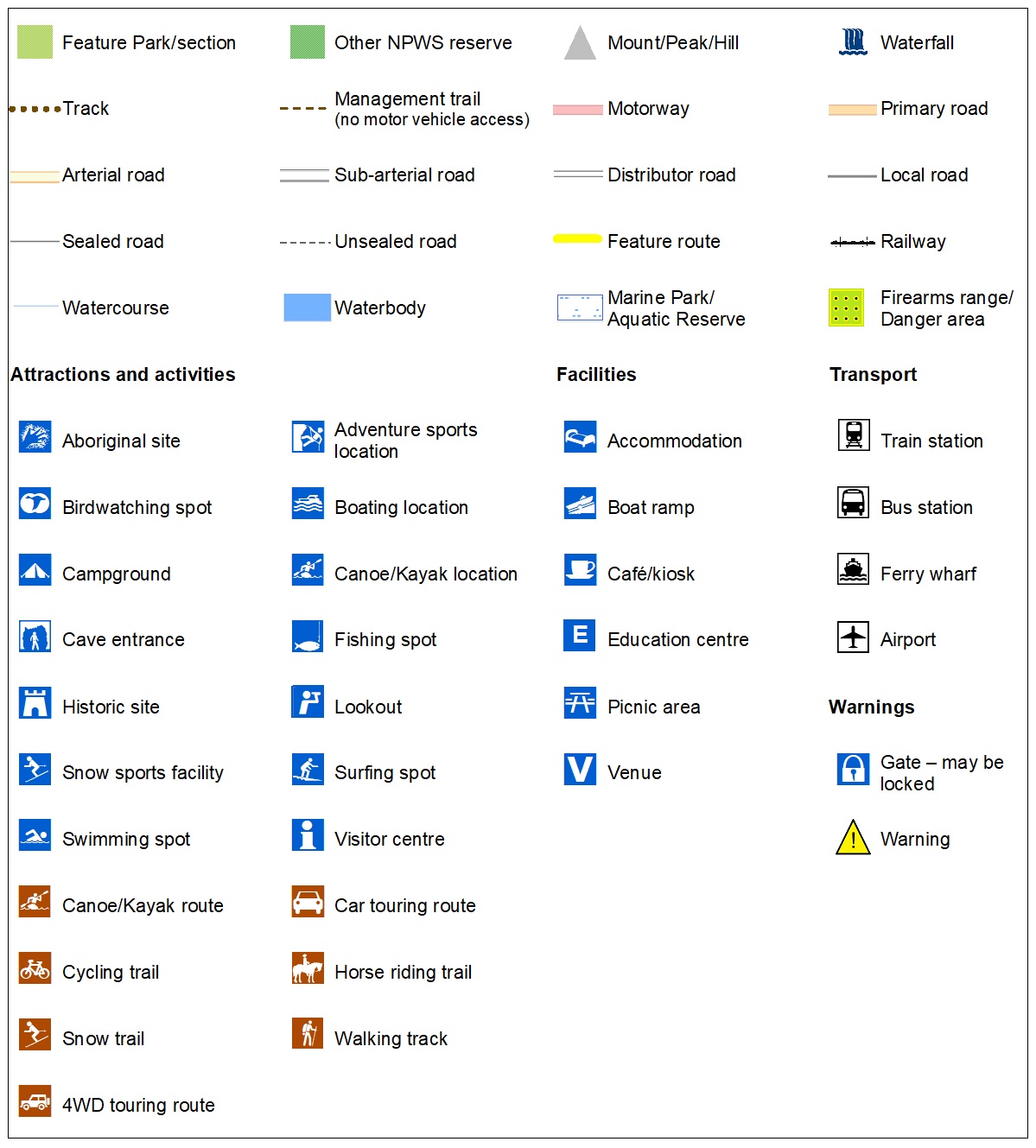 Getting there and parking
Weather, temperature and rainfall
Winter temperature
Average
12.9°C and 14.7°C
Rainfall
The area's highest recorded rainfall in one day
197.6mm
Maps and downloads
Nearby towns
Molong (4 km)
Follow the heritage walking tour of Molong in Country NSW to see the many fine 19th-century buildings. Wander through craft shops or art galleries and visit nearby historic villages such as Yeoval, Cumnock and Cudal.
Orange (32 km)
The bustling city of Orange, with its many cafes, restaurants and shopping opportunities, has something for everyone, plus there's a huge range of places to stay. The real highlight is the town's food and wine, so bring your thirst and your appetite.
Canowindra (68 km)
In the red countryside of Canowindra, you can travel back 360 million years to see rare fossils in the amazing Age of Fishes Museum, where you'll encounter thousands of fossilised freshwater fish.
Learn more
Yuranigh's Aboriginal Grave Historic Site is a special place. Here are just some of the reasons why:
See traditional Aboriginal tree carvings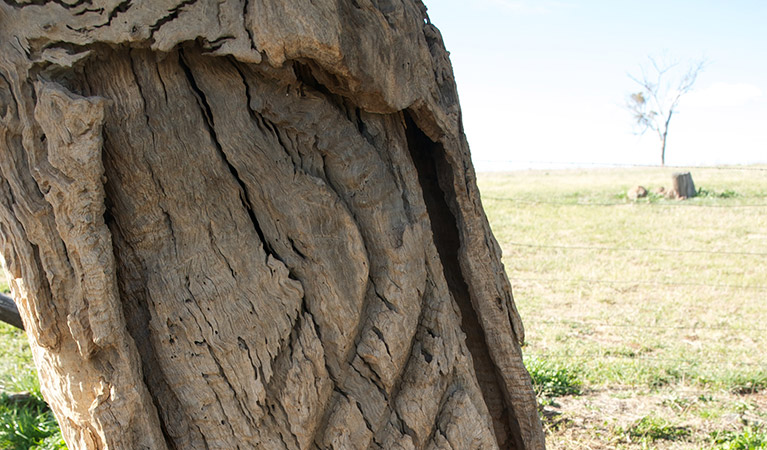 Carving of trees was once common in the central part of the state, where there were relatively few rocky areas for painting. Four carved trees present at the site feature striking traditional geometric designs. As one of the trees has fallen, the carving is now conserved underneath a shelter. The remaining three trees also contain carvings. One is clearly visible, one is partly obscured and the third is completely grown over. There are also signs with complete diagrams showing those parts of the carvings that are no longer clearly visible.
Native parrots and tall eucalypts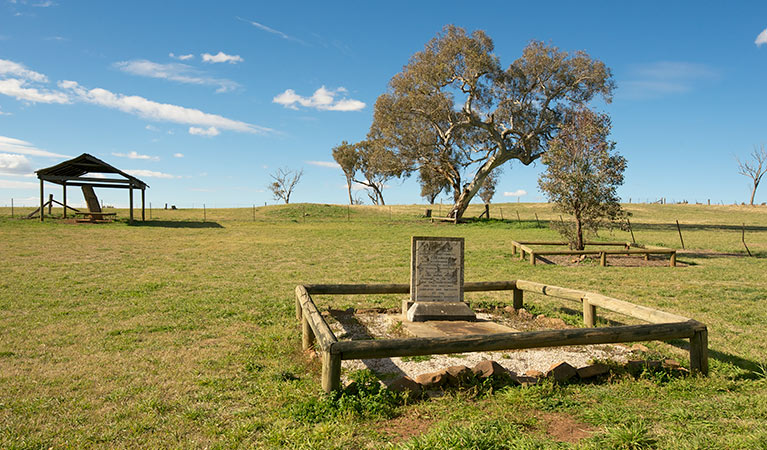 Although situated in a largely cleared farming landscape, the site contains a number of yellow box eucalyptus trees, typical of the grassy woodlands that would have been present prior to European settlement. If you're lucky, you may spot some of the many native parrots that visit the area resting in these trees, including beautiful eastern rosellas and crimson rosellas.
A story and symbol of cross-cultural cooperation
Yuranigh teamed up with Sir Thomas Mitchell as he passed through the region in 1845. He assisted Mitchell on his fourth-ever expedition, this time into the heart of Queensland. Upon hearing of Yuranigh's death in 1850, Mitchell arranged for the erection of a headstone to commemorate his trusted assistant. This combination of traditional Aboriginal tree carvings and a European headstone is not known of anywhere else in Australia.
Education resources (1)