Kosciuszko National Park
Overview
Offering skiing, snowboarding, camping, bushwalking, fishing and mountain biking activities, Kosciuszko National Park is great for school excursions or a day trip.
Read more about Kosciuszko National Park
Explore the rugged alpine landscape of Kosciuszko National Park. This stunning park, offering winter snow and fresh clean air in summer, offers visitors an endless choice of activities.
Enjoy a skiing or snowboarding holiday or weekend getaway at Perisher or Thredbo; and for something more invigorating, try snowshoeing or cross country skiing among snowgum woodlands.
In the warmer months, climb Australia's highest mainland mountain, go boating and fishing, enjoy the alpine flowers or take a guided tour. If you're missing the winter action, there's rock climbing, caving and mountain biking to get your heart racing, and if you don't want to go alone, you can take an adventure tour.
One visit will be enough to give you a taste of Kosciuszko's riches and will have you planning your next trip.
Promotional:
Sign up to our Naturescapes e-newsletter which is packed with information, new products, experiences and events in NSW national parks. Your next park adventure starts here.
Conservation program:
An iconic endangered species, the southern corroboree frog, found only in Kosciuszko National Park, faces the grave threat of extinction. Saving Our Species aims to prevent this from happening by battling chytrid fungus, protecting frog habitat from pests, and fostering a captive breeding program.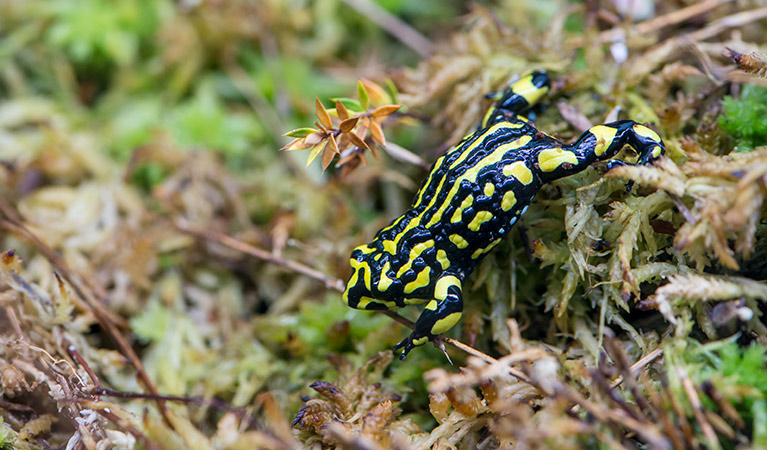 Contact
in the Snowy Mountains region

Kosciuszko National Park is open all year round but at times some roads and trails close due to weather conditions or other park management issues, for details click on the alerts button or select contact to get in touch with visitor centre staff.

Park entry fees:

Winter peak (Alpine Way, Kosciuszko Rd and Kings Cross Road) From start of June 2016 long weekend to end of October 2016 long weekend: $29 per vehicle per day (24hrs); motorcycles $12; bus passengers $11.45 per adult, $3.60 per child per day(24hrs). Find out more about the Winter entry surcharge.

Rest of the year (Alpine Way and Kosciuszko Road only) $17 per vehicle per day (24hrs); motorcycles $7; bus passengers $6.60 per adult, $2.20 per child per day (24hrs).

Yarrangobilly Caves (year-round): $4 per vehicle per day, unless park entry has been paid.

Passes: Day passes (based on daily entry fees above), multi-day passes and annual All Parks Pass available from local visitor centres, local agents and operating vehicle entry stations. Read our Annual Pass FAQs for information on upgrades. Short Breaks Pass: $68 for five-days park entry at price of four days (not valid winter). Pensioners are exempt from park entry fees. Download the exemption form.

Buy an annual pass.
More
More

Khancoban
(02) 6076 9373
(02) 6076 9382
Contact hours: 9am-4pm (closed 12.30pm-1pm) Monday to Friday. Open daily during peak summer season and school holidays.
Scammell Street, Khancoban NSW
Fax: (02) 6076 9567

More

Yarrangobilly Caves
(02) 6454 9597
Contact hours: 9am-5pm daily (closed Christmas Day)
Snowy Mountains Highway, Yarrangobilly Caves
Fax: (02) 6454 9598

More
More
More

School excursion inquiries - Kosciuszko Education Centre
(02) 6451 3700


More
See more visitor info