Stonewoman Aboriginal Area
Overview
Stonewoman Aboriginal Area holds special cultural significance for local Aboriginal people, who have traditionally used it as a woman's teaching and ceremonial site.
Read more about Stonewoman Aboriginal Area
After a short 750m walk from the main entrance to Stonewoman Aboriginal Area, past grey kangaroos basking in the sun on open grazing lands, you come across something very special. Tingha Stonewoman is an unusual rock formation with spiritual and cultural significance for local Aboriginal people, descended from the Murri. Nobody knows how old Tingha Stonewoman is, but her legend is a Kamilaroi story. A sign prepared in collaboration with the Tingha community – which also helps maintain the site – tells the tale of a young woman punished for breaking traditional marriage laws.
"There was once a young girl who decided to choose her own husband, and not let the older people choose one for her, as was the custom of those days. She married a person who was not of her right group and did not belong to her people. The young girl ran away with her husband, but the girl stopped to have a drink of water. The Elders had sent people after her to kill her, because she had broken the law, and when they found her bending over drinking the water, they hit her on the back of the head with a nulla nulla, causing her neck to break. She is still there today with her head in the water, and she is a warning to all young girls not to break the laws of marriage."
Stonewoman Aboriginal Area is a sacred place, used as a woman's teaching and ceremonial site. A visit here today is both intriguing and memorable. Anybody with an appreciation for Aboriginal heritage will want to make the trip and appreciate the site's significance.
Contact
in the Country NSW region

Stonewoman Aboriginal Area is always open but may have to be closed at times due to fire danger or if Long Creek is flooded, as it is needed to access the site.

Glen Innes office
02 6739 0700
Contact hours: Monday to Friday, 8.30am to 4.30pm.
68 Church Street, Glen Innes NSW 2370

More
See more visitor info
Visitor info
All the practical information you need to know about Stonewoman Aboriginal Area .
Getting there and parking
From Tingha:
Follow New Valley Road (Ruby Street) south for 700m, then turn right onto Kempton Road.
Follow Kempton Road for 3km before continuing straight ahead on what becomes Long Gully Road
Continue along Long Gully Road for 2km to the carpark adjacent to Long Creek. You may then either drive or walk a further 300m to a pedestrian gate in the fence.
If visiting by coach, park on the Tingha side of Long Gully Creek so the coach doesn't bottom out and get stuck due to a steep incline.
Park entry points
Best times to visit
Stonewoman Aboriginal Area is a great place to visit any time of the year. It can become quite hot during the summer months, but the relatively short walk to the site means well-prepared walkers should not experience any difficulty.




Weather, temperature and rainfall
Summer temperature
Average
14.2°C and 29.6°C
Rainfall
The area's highest recorded rainfall in one day
125.2mm
Maps and downloads
Nearby towns
Inverell (22 km)
Go fossicking for sapphires and other gems at several places around the city. Grab a map of local fossicking sites from the visitor information centre and try your luck.
Guyra (55 km)
Fishing in one of Guyra's numerous and beautiful streams is a great way to relax and get back to nature. You might land a big trout, too! If you're looking for more active pursuits, you're within easy reach of a number of scenic national parks, where rock climbing, kayaking horseriding and bushwalking are just some of your options.
Learn more
Stonewoman Aboriginal Area is a special place. Here are just some of the reasons why:
The cultural legacy of the Murri People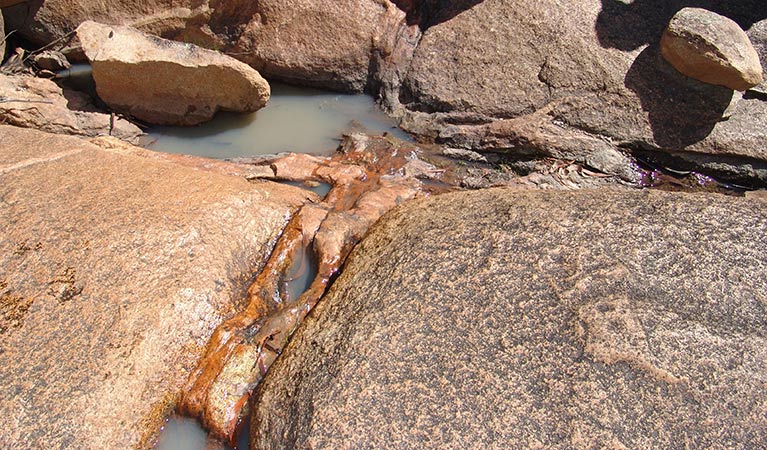 Historically, Aboriginal people who occupied the Western New England Tablelands were the Murri. Today's descendants speak of stories handed down from the 'old people', which tell of a time when all Murri People were part of the same group, with a shared language and customs. A Great Flood divided the Murri into isolated tribes, which then developed their own laws and traditions. A visit to the Tingha area is therefore a visit to a place rich in Aboriginal heritage, where the landscape is understood through a dense net of stories and legends. Tingha Stonewoman is one such legend, and shows how the Aboriginal people relate to landscape directly, using it to illustrate and communicate beliefs and social customs from generation to generation. A woman's teaching and ceremonial site, Stonewoman Aboriginal Area is a great example of the Aboriginal approach to the world that can be understood by everybody.