Livingstone multi-use track
Livingstone National Park
Learn more
Learn more about why this park is special
Livingstone multi-use track is in Livingstone National Park. Here are just some of the reasons why this park is special:
Lands of plenty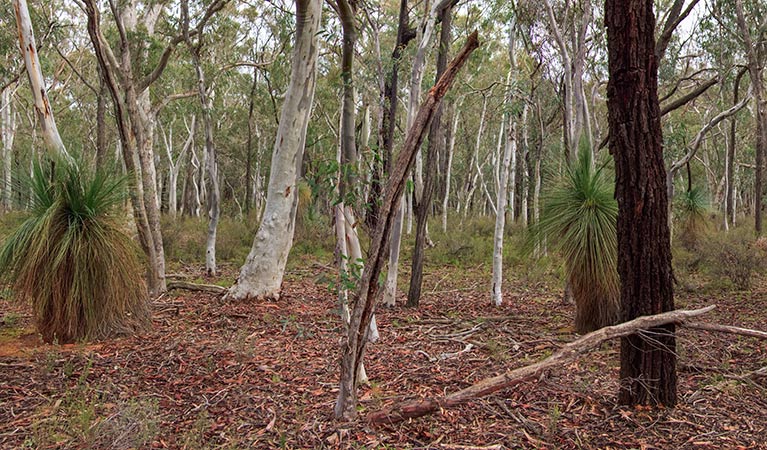 Livingstone National Park is Wiradjuri Country. The land and all within it has great importance to local Aboriginal spirituality and culture - art, ceremonial sites and spiritual places are throughout this outstanding landscape. Many plants, such as grass trees and mugga ironbark, have been used to produce shields, medicine and boomerangs. Livingstone is covered by the Wagga Wagga Local Aboriginal Land Council, so when you're in this country, you're in a place where Aboriginal culture is integral to its past, present and future.
Pastoral historic heritage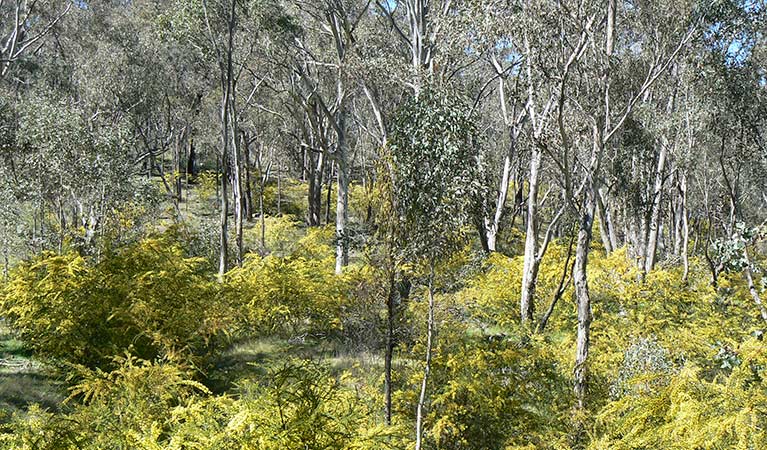 Livingstone National Park was once pastoral holdings until the area was converted to a state forest in 1917. Continuous, though limited, mining occurred from 1872 to 1950, and again in the early 1980s. Early mining activity was for gold and, in later times, wolframite. Today, there is still evidence of trenches, mullock heaps, and mine shafts.
Wild about wildflowers and wildlife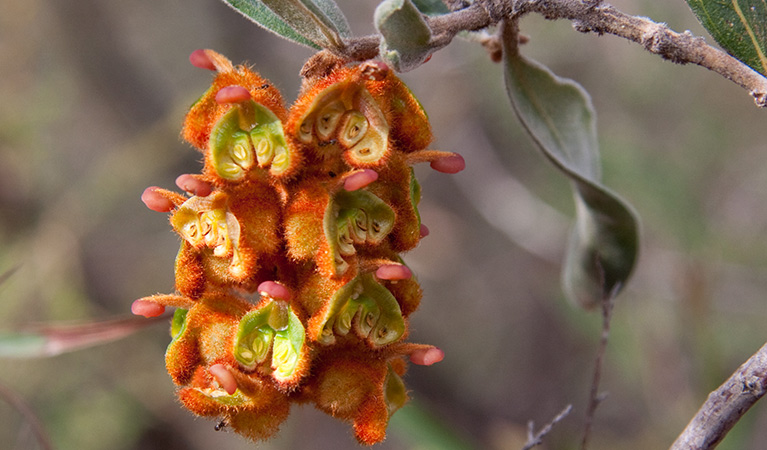 During spring, you'll see an abundance of beautiful plants flowering in Livingstone. Bursts of purple Austral indigo interspersed with yellow kangaroo thorn, cream-coloured grass trees, and nodding blue lily (which is actually purple) form a kaleidoscope of vibrant colours. A population of Yass Daisy, a threatened species, occurs in Livingstone - the most south-westerly limit of its known range. Six distinctive forest ecosystems here make for a uniquely varied, interesting landscape. The park also contains a diverse range of native animals, including 5 amphibian species, 9 reptile species, 15 mammal species, and 185 species of birds. Many threatened species have been recorded here, and it's a sanctuary for swift, superb and turquoise parrots, barking owls, hooded robins, and diamond firetails.
Livingstone multi-use track

Livingstone multi-use track is a great loop track you can enjoy while bushwalking, mountain biking or horse riding. Go orienteering, birdwatching, camping, near Wagga Wagga.
Education resources (1)
Naturescapes e‑newsletter