Wombeyan Karst Conservation Reserve
Overview
Take a guided tour of Wombeyan Karst Conservation Reserve's caves. There are plenty of campsites and a couple of accommodation options – plan your weekend getaway now.
Read more about Wombeyan Karst Conservation Reserve
In 1865, Wombeyan became the first area in Australia to be reserved for the protection of caves and there are still structures dating from the early 1900's in some caves.
Today, Wombeyan Karst Conservation Reserve boasts some of NSW's most impressive show caves, including Figtree Cave, widely regarded as one of the state's best self-guided cave experience, and others that you can experience on a guided tour. Aside from the show caves, the reserve also has a few walks, including the Waterfall track that features scenic waterfall views and Mares Forest Creek track.
The reserve is an easy drive from Sydney, Canberra and Wollongong, so it's a great place to escape to on a weekend getaway. You can bring your caravan, tent or motor home to camp out overnight or you can book into one of the cabins or the cosy Post Office Cottage. You might find you have some visitors to the campground; the kangaroos can be quite inquisitive.
Extra cave tours are scheduled for most public holidays and can be booked at the time of your visit.
Contact
in the Country NSW region

Wombeyan Karst Conservation Reserve is always open but may have to close at times due to poor weather or fire danger.

More
See more visitor info
Visitor info
All the practical information you need to know about Wombeyan Karst Conservation Reserve.
Getting there and parking
From Sydney:
Take the South Western Motorway to Casula, then take the left fork onto the Hume Highway
After about 65km take the ramp to the Old Hume Highway at Aylmerton
Turn right into Wombeyan Caves Road at Woodlands and continue driving for about 60km until you reach the reserve
From Canberra:
Take the Federal Highway to Goulburn, then take Gouldburn-Taralga-Oberon Road towards Taralga for about 45km
Turn right into Wombeyan Caves Road and continue driving for about 15km until you reach the reserve
From Wollongong:
Take Mount Keira Road to Picton Road, then take the Old Hume Highway for about 35km
Turn left into Wombeyan Caves Road and continue driving for about 60km until you reach the reserve
Please note that the road from Mittagong to the cave is not suitable for caravans. Caravans should come via Taralga
If you're travelling from Goulburn, Mittagong, Crookwell or Oberon, please ensure you have refuelled your vehicle as there is no petrol station at Wombeyan Karst Conservation Reserve.
Park entry points
Parking
By bike
Check out the Bicycle information for NSW website for more information.
By public transport
For information about public transport options, visit the NSW country transport info website
Best times to visit
There are lots of great things waiting for you in Wombeyan Karst Conservation Reserve. Here are some of the highlights.
Spring
While the caves can be visited all year round, a trip to Wombeyan in spring is well timed to catch wildflowers in full bloom.
Summer
A great time for a weekend camping trip - pitch your tent, enjoy breakfast cooked on the barbecue and beat the heat with a dip in a natural swimming hole.
Winter
Take advantage of the cooler weather and book a weekend getaway at the historic Post Office Cottage. The wood heater will keep you warm all night.
Weather, temperature and rainfall
Rainfall
The area's highest recorded rainfall in one day
174.2mm
Facilities
Amenities
Toilets
Picnic tables
Barbecue facilities
Cafe/kiosk
Drinking water
Public phone
Showers
Maps and downloads
Nearby towns
Taralga (26 km)
Many of Taralga's existing buildings date from the 1860s to the 1890s, and most of them consist of stone from local volcanic supplies. This has resulted in an architectural style unique to Taralga that is somewhere between Georgian and Victorian, giving the town a unique and picturesque aesthetic.
Crookwell (64 km)
Situated high on the Great Dividing Range more than 900 m above sea level, the area experiences four distinct seasons and is ideal for growing disease-free seed potatoes, making it a key supply area to Australia's potato-growing regions. Every March, the region celebrates the industry with the Crookwell Potato Festival.
Goulburn (72 km)
Named after Henry Goulburn - the British Secretary of State for the Colonies, Goulburn developed into a major centre for wool, and in 1863, it became Australia's first inland city. Today, the town is a rich hub of history, discovery and natural beauty.
Learn more
Wombeyan Karst Conservation Reserve is a special place. Here are just some of the reasons why:
On show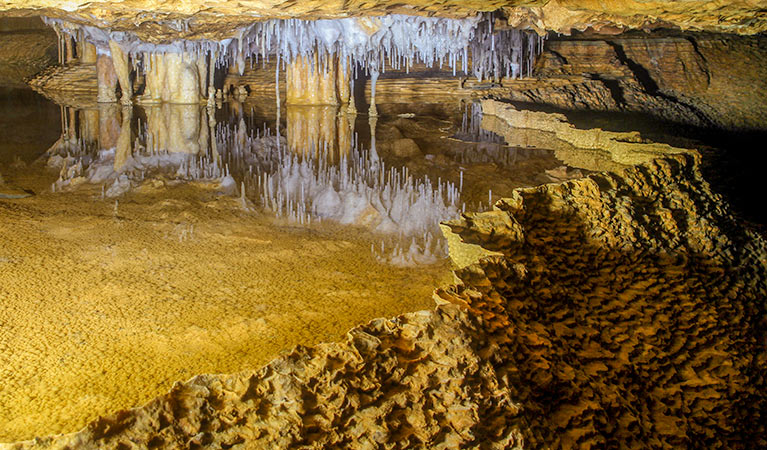 The limestone caves of Wombeyan Karst Conservation Reserve are between 400 and 430 million years old. The geological processes that have created the magnificent cave system you see today continue to work their magic; you'll notice the impressive cave decorations including stalactites and stalagmites that are created by the infiltration of water into the caves. Take a guided Discovery tour to find out more about the history and geology of the caves.
Dennings Labyrinth

Dennings Labyrinth, in Wombeyan Karst Conservation Reserve, is a guided tour through one of the park's show caves.

Fig Tree Cave

Be sure to take the self-guided tour of the impressive Fig Tree Cave while you're at Wombeyan Karst Conservation Reserve. The cave decorations are a sight to see.
Life in the air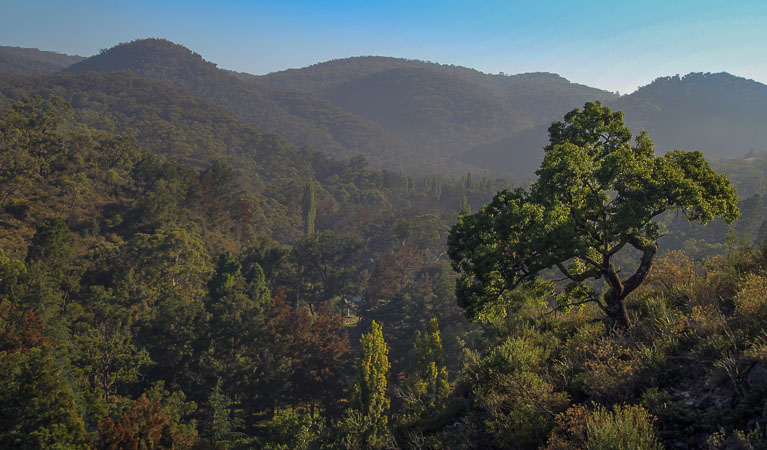 Wombeyan Karst Conservation Reserve plays a special role in the conservation of some of Australia's precious native flora and fauna. The moist forest that surrounds the park's creeks are home to superb lyrebirds, the eastern whipbirds and flycatchers; look for lyrebird scratches around on the forest floor. Keep your eyes in the sky around the park's rocky outcrops for birds of prey, including brown goshawks and wedge tailed eagles. You'll have to look particularly carefully to see a tawny frogmouth; their camouflage is excellent- staying very still and upright- you might mistake them as part of the branch.
Mares Forest Creek walking track

Tracking through a marble karst area along a stream, Mares Forest Creek walking track in Wombeyan Karst Conservation Area takes you to Tinted Cave.

Victoria Arch walking track

A short walk on Victoria Arch walking track, in Wombeyan Karst Conservation Reserve, takes visitors through the bush to a remarkable natural formation.
Aboriginal connections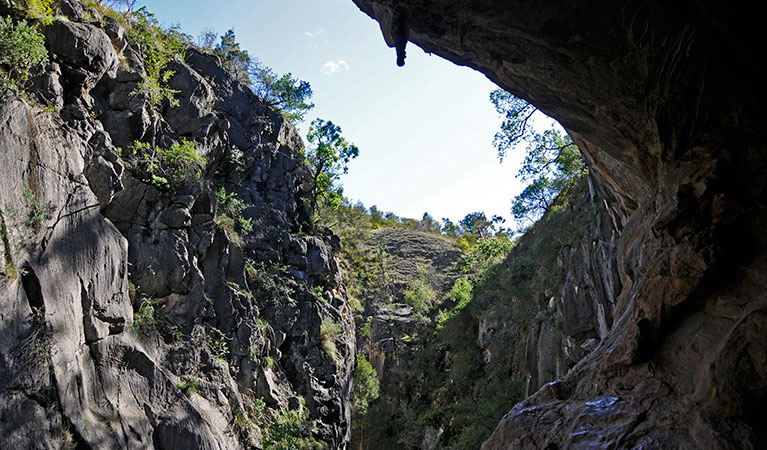 Wombeyan Karst Conservation Reserve is located within the traditional land of the Gundungurra People, with the word Wombeyan coming from local language meaning 'grassy valley between mountains'. It's believed that Wombeyan Caves were part of an Aboriginal travel route that coincided with seasonal availability of food and the caves may have provided reliable shelter. The Dreamtime myth of Gurrangatch relates to the forming of Wombeyan and Jenolan Caves. The caves are said to have been formed during a contest between Gurangatch, a mythical being that was part fish and part reptile, and Mirragan, a legendary tiger cat.
Plants and animals you may see
Environments in this park
Education resources (1)
What we're doing
Wombeyan Karst Conservation Reserve has management strategies in place to protect and conserve the values of this park. Visit the OEH website for detailed park and fire management documents. Here is just some of the work we're doing to conserve these values:
Understanding landscapes and geology
Wombeyan Karst Conservation Reserve values the protection and conservation of biodiversity, land and native vegetation. Ongoing initiatives are carried out within this park, and are designed to deliver important landscape connectivity conservation outcomes.
Conservation program
Damage to karst environments, including caves, gorges and sinkholes, means damage to our geodiversity. Comprising 4 critical documents, the NPWS karst area management guidelines work with the objective of preserving numerous karst environments in NSW, while mitigating human impact
Preserving biodiversity
Biodiversity is integral to Wombeyan Karst Conservation Reserve, and the reserve's native flora and fauna communities – including threatened species – are carefully protected. Pest management and weed control programs are in place in this park and are implemented with minimal disturbance to the area's special karst environment.
Conservation program
Uniting technology with the vast collection of information on biodiversity in NSW, BioNet is a valuable database open to any user. From individual plant sightings to detailed scientific surveys, it offers a wealth of knowledge about ecology and threatened species in NSW. 
Managing weeds, pest animals and other threats
Pests and weeds have a significant impact to the ecosystems within Wombeyan Karst Conservation Reserve. NPWS carries out risk assesments for new and emerging weeds as well as wild dog control to protect biodiversity in this conservation reserve.
Conservation program
Wild dogs can have significant impacts on other animals and are regarded as pests. Our wild dog control program operates in many NSW national parks and reserves. When carrying out such pest control, we aim to minimise the wild dogs' effects on livestock and wildlife, while still maintaining dingo conservation in key areas.
Developing visitor facilities and experiences
NPWS is committed to providing its visitors with clear, accurate information. The directional signage and interpretive material displayed in Wombeyan Karst Conservation Reserve is regularly reviewed, ensuring the public is aware of the unique requirements of visiting this delicate area. NPWS regularly maintains its visitor facilities, and management programs are ongoing in this reserve.
Conserving our Aboriginal culture
Wombeyan Karst Conservation Reserve ensures all Aboriginal sites within its borders are protected and preserved. NPWS collaborates with the Pejar Local Aboriginal Land Council on Aboriginal site management and interpretation, and sites are regularly inspected and maintained. Development decisions are made with the goal of minimal impact and least proximity to Aboriginal sites. Research into Aboriginal culture is ongoing in this park.
Managing fire
NSW is one of the most bushfire prone areas in the world as a result of our climate, weather systems, vegetation and the rugged terrain. NPWS is committed to maintaining natural and cultural heritage values and minimising the likelihood and impact of bushfires via a strategic program of fire research, fire planning, hazard reduction, highly trained rapid response firefighting crews and community alerts.
Conservation program
Managing fire-prone NSW national parks requires a three-pronged approach, including fire planning, community education, and fuel management. When it comes to fuel like dead wood, NPWS conducts planned hazard reduction activities like mowing and controlled burning to assist in the protection of life, property and community.