Sea Acres National Park
What we're doing
Park management activities
Sea Acres National Park has management strategies in place to protect and conserve the values of this park. Visit the OEH website for detailed park and fire management documents. Here is just some of the work we're doing to conserve these values:
Understanding landscapes and geology
NPWS is dedicated to preserving the geology, special landscapes and natural assets of Sea Acres National Park, and programs to protect and preserve its geology, waterways and unique ecosystems are in place. NPWS encourages research into the park's geology and geomorphic processes, and works to protect relevant sites wherever possible. Visitor interpretation and education is an ongoing priority in this park.
Preserving biodiversity
Sea Acres National Park embraces efforts to support the biodiversity of its flora and fauna. Conservation programs operate within this park and may include research studies, pest management strategies, weed control, monitoring of visitor impacts and fire management planning. NPWS liaises with Hastings Council and other relevant authorities on issues affecting the biodiversity of the park.
Conservation program
Uniting technology with the vast collection of information on biodiversity in NSW, BioNet is a valuable database open to any user. From individual plant sightings to detailed scientific surveys, it offers a wealth of knowledge about ecology and threatened species in NSW. 
Managing weeds, pest animals and other threats
Pests and weeds have a significant impact to the ecosystems within Sea Acres National Park. NPWS carries out risk assesments for new and emerging weeds as well as Bitou bush and boneseed management to protect biodiversity in this park.
Conservation program
Bitou bush poses a serious and widespread threat to threatened species populations and ecological communities on the NSW coast. The NPWS bitou bush threat abatement plan helps to reduce the impact of weeds at priority sites using control measures such as ground spraying, aerial spraying, biological control and physical removal.
Developing visitor facilities and experiences
NPWS works to increase opportunities for people to visit and enjoy our national parks and reserves, including Sea Acres National Park. To reflect this, the park hosts regular events to appeal to the local community and engage their interest in national parks.
Conservation program
When you sign up to volunteer for tour guiding and visitor services, you'll be doing something for yourself as well as for the benefit of visitors to NSW national parks.
Conserving our Aboriginal culture
Sea Acres National Park is dedicated to preserving its rich Aboriginal heritage. The condition of the park's cultural sites is regularly assessed and carefully managed, and NPWS works closely with the Birpai Aboriginal Land Council to ensure this. The park works to educate visitors through interpretive exhibitions and displays, which are maintained and upgraded as required.
Managing fire
NSW is one of the most bushfire prone areas in the world as a result of our climate, weather systems, vegetation and the rugged terrain. NPWS is committed to maintaining natural and cultural heritage values and minimising the likelihood and impact of bushfires via a strategic program of fire research, fire planning, hazard reduction, highly trained rapid response firefighting crews and community alerts.
Conservation program
Managing fire-prone NSW national parks requires a three-pronged approach, including fire planning, community education, and fuel management. When it comes to fuel like dead wood, NPWS conducts planned hazard reduction activities like mowing and controlled burning to assist in the protection of life, property and community.
Contact
in the North Coast region

Sea Acres National Park is always open but may have to close at times due to poor weather or fire danger.

More
See more visitor info
Get involved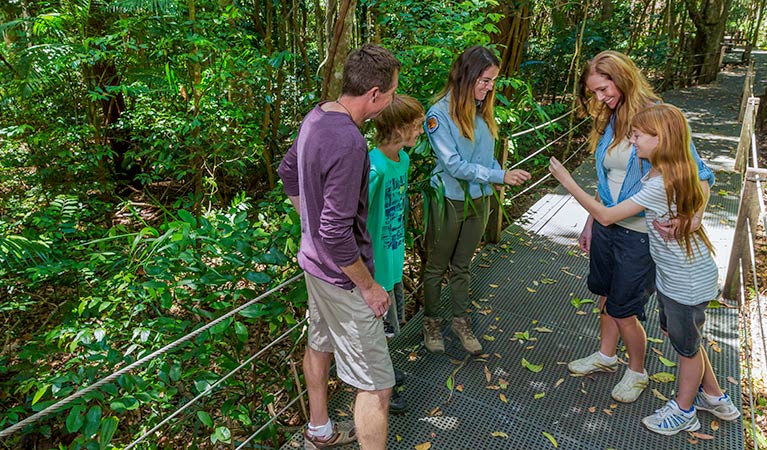 Volunteer as a Discovery guide or Wilderquest Education guide at Sea Acres Rainforest Centre in Sea Acres National Park. Introduce visitors to this subtropical coastal rainforest near Port Macquarie.
Donate to NSW National Parks
Valuable conservation work is being done in our national parks through the Foundation for National Parks and Wildlife, a not-for-profit organisation with the mission to care for Australia's native plants, animals and cultural heritage.