Sea Acres National Park
Learn more
Learn more about why this park is special
Sea Acres National Park is a special place. Here are just some of the reasons why:
Find out more about this special place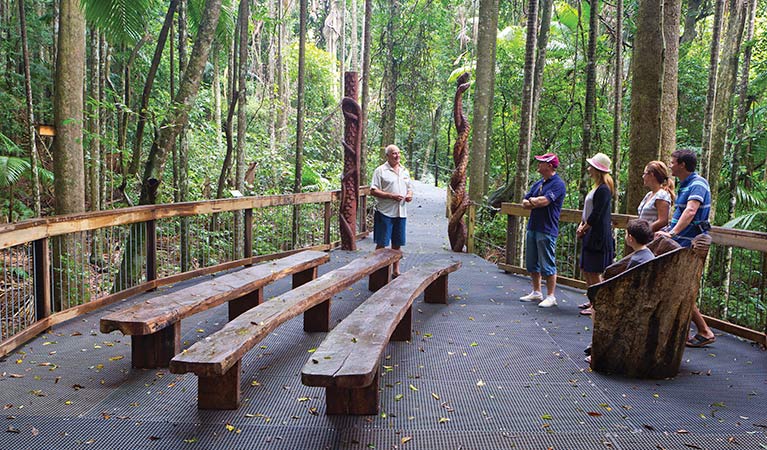 If you are looking for an educational experience within Sea Acres National Park then take some time out to have a look at The Spirit of the Land exhibition. This multimedia exhibition takes you on a virtual tour of Birpai Country and introduces you to key Birpai stories.
Port Macquarie coastal walk

The Port Macquarie Coastal walk takes in historic sites and stunning coastal scenery, beaches and rainforest. It can be enjoyed as a day walk or several short walks.

Sea Acres Rainforest Centre

Close to Port Macquarie, Sea Acres Rainforest Centre is the gateway to your rainforest experience. Friendly staff provide information and there is a café where you can enjoy a delicious breakfast and ...
Ancient connections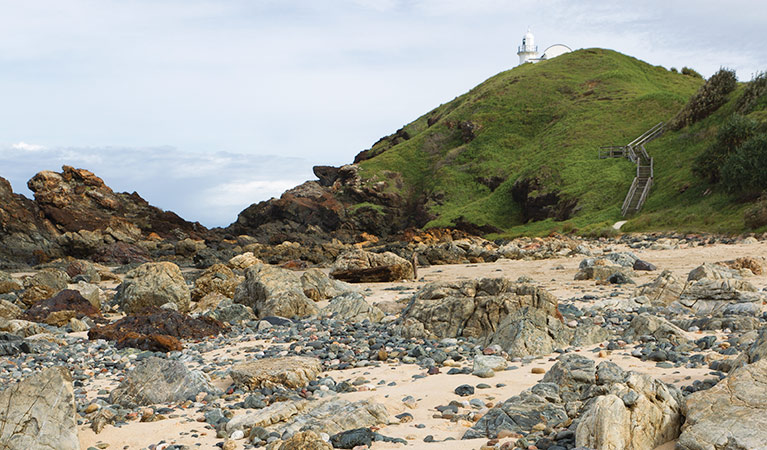 Sea Acres National Park is the traditional country of the Birpai People. The park's landscape has provided a rich source of food, medicines and shelter for thousands of years. Evidence of Aboriginal inhabitants has been found in Sea Acres National Park, and it's likely that the Birpai used the area for fishing, hunting and gathering.
Worlds away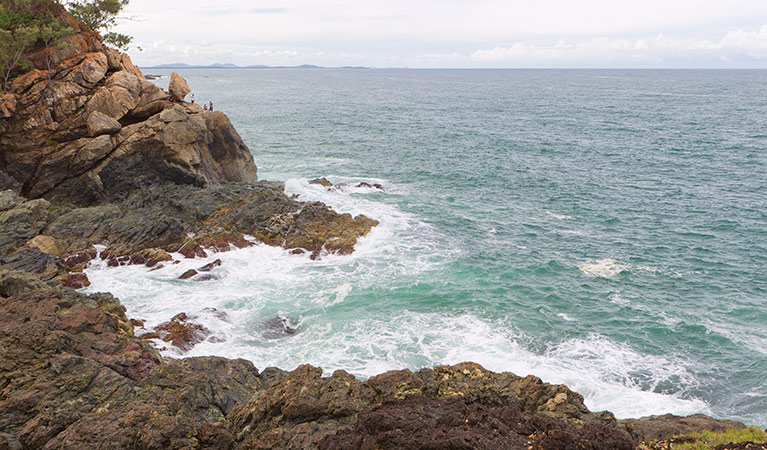 When you venture out on the boardwalk, immersed in the still beauty of the rainforest, you'll really believe you've travelled back in time. And you're right. The environment here has remained unchanged for thousands of years. Engage your senses and let the rainforest and its residents take you away to another place. The rainforest is a haven for myriad birds, so look out for the colourful wompoo fruit dove and rose crowned fruit dove and listen for the distinctive yowl of the green catbird. You're bound to see a brush turkey or two foraging on the forest floor.
Sea Acres Rainforest boardwalk

The Sea Acres Rainforest boardwalk is best experienced on a guided tour. An easy 1.3km walk through the rainforest canopy, you'll see forest birds and animals.
Midnight feast
In the evening, when all the visitors have left, the rainforest of Sea Acres comes alive as bats, possums and bush rats start their day. Rats forage for food in the forest undergrowth, possums hang from trees to munch on berries and leaves, and flying foxes swoop from one tree to another. The park is also the occasional home to koalas which feed on the eucalypts along the western boundary. The park is an important habitat for koalas in the Port Macquarie area as it is one of the largest naturally-vegetated areas remaining and contains some of their favourite food.
Yoga in the rainforest

Experience the nature of stillness on a guided meditative walk with Simon Adel (from Port Yoga) in the rainforest of Sea Acres National Park. It's a great way to start your weekend.
Plants and animals you may see
Animals
Koala

(Phascolarctos cinereus)

One of the most renowned Australian animals, the tree-dwelling marsupial koala can be found in gum tree forests and woodlands across eastern NSW, Victoria and Queensland, as well as in isolated regions in South Australia. With a vice-like grip, this perhaps most iconic but endangered Australian animal lives in tall eucalypts within a home range of several hectares.

White-bellied sea eagles can be easily identified by their white tail and dark grey wings. These raptors are often spotted cruising the coastal breezes throughout Australia, and make for some scenic bird watching. Powerful Australian birds of prey, they are known to mate for life, and return each year to the same nest to breed.

The Australian brush turkey, also known as bush or scrub turkey, can be found in rainforests along eastern NSW. With a striking red head, blue-black plumage and booming call, these distinctive Australian birds are easy to spot while bird watching in several NSW national parks.
Look out for...
Haliaeetus leucogaster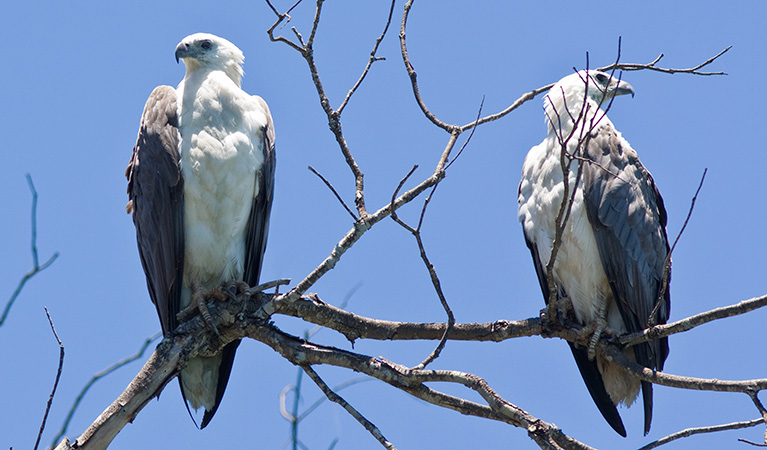 Environments in this park
Education resources (1)
Naturescapes e‑newsletter