Montague Island Nature Reserve
What we're doing
Park management activities
Montague Island Nature Reserve has management strategies in place to protect and conserve the values of this park. Visit the OEH website for detailed park and fire management documents. Here is just some of the work we're doing to conserve these values:
Preserving biodiversity
Montague Island Nature Reserve abounds with remarkable wildlife and is proud of its biodiversity. The reserve has programs in place to protect and enhance the habitats of all nesting seabird species. NPWS is committed to plant and animal conservation, and efforts to protect threatened, vulnerable and endangered species are ongoing in this park.
Conservation program
Uniting technology with the vast collection of information on biodiversity in NSW, BioNet is a valuable database open to any user. From individual plant sightings to detailed scientific surveys, it offers a wealth of knowledge about ecology and threatened species in NSW. 
Managing weeds, pest animals and other threats
Montague Island Nature Reserve is a biodiversity hot spot, and pests and weeds can have an impact on this sensitive park value. Pest reduction is a priority to manage species which threaten this reserve, and ongoing risk assessment takes place to identify new and emerging weeds. This plays an important part of the work NPWS does to protect this nature reserve for the future.
Conservation program
Weeds and pest animals cause substantial damage to agriculture and our environment, so it's essential we manage them in NSW national parks and reserves. Our regional pest management strategies aim to minimise the impact of pests on biodiversity in NSW.  We work hard to protect our parks and neighbours from pests and weeds, ensuring measurable results.
Historic heritage in our parks and reserves
With a goal to uphold a rich visitor experience and conserve the historic values of Montague Island Nature Reserve, there are ongoing projects to ensure historic heritage is conserved and the buildings reflecting this heritage of the area are also maintained.
Developing visitor facilities and experiences
NPWS is committed to raising awareness of Montague Island Nature Reserve, its flora, fauna and wealth of unique offerings. NPWS continually works to enhance the experiences available to park visitors, the local community and greater public, and actively promotes volunteering opportunities within the park.
Contact
in the South Coast region

Montague Island Nature Reserve is always open but may have to close at times due to poor weather or fire danger.

Please note that Montague Island is only accessible via one of NSW National Parks & Wildlife contracted commercial vessel tour operators (go to www.eurobodalla.com.au for details).

Narooma
(02) 4476 0800
Contact hours: 10.00am-2.00pm Monday to Friday
Corner Graham and Burrawang Streets, Narooma NSW
Fax: (02) 4476 0833

More
See more visitor info
Get involved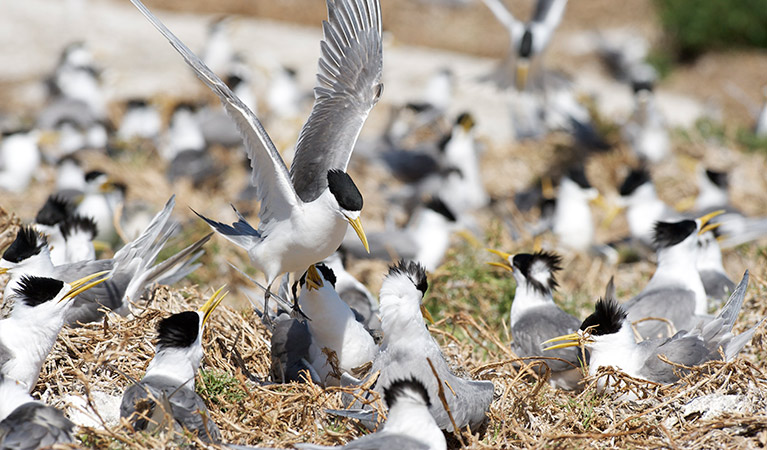 Volunteer at Montague Island Nature Reserve to help NSW National Parks restore numbers of vulnerable and protected species of nesting seabirds that use the island as a seasonal breeding site. Take part in activities such as weed control, surveying and monitoring while enjoying the scenic ocean views.
Donate to NSW National Parks
Valuable conservation work is being done in our national parks through the Foundation for National Parks and Wildlife, a not-for-profit organisation with the mission to care for Australia's native plants, animals and cultural heritage.