Budderoo National Park
Learn more
Learn more about why this park is special
Budderoo National Park is a special place. Here are just some of the reasons why:
A splash of relaxation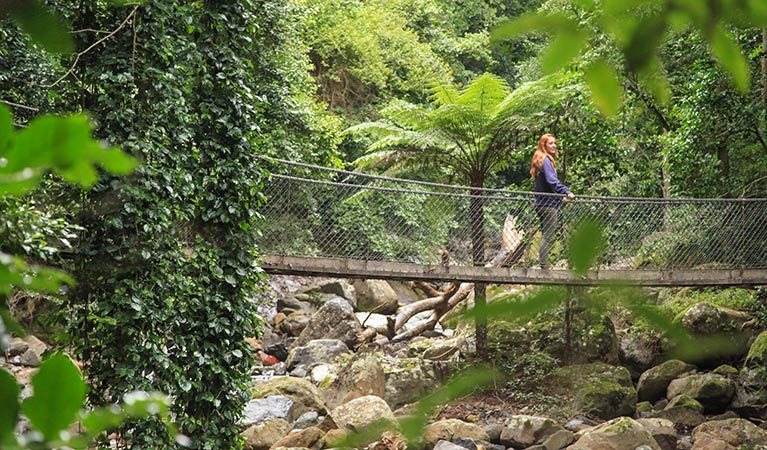 Nurtured and conserved for over a century, the Minnamurra Rainforest is exceptionally precious. At this much-loved tourism destination, you can wander raised boardwalks and explore the rainforest that once blanketed much of the region. For the ultimate experience, combine the Rainforest loop walk and The Falls walk and discover exquisite plants and animals in breathtaking surroundings. If you've ever fallen asleep to the sounds of a relaxation CD, you'll know the peaceful power of waterfalls. And with its own wonderful falls, Budderoo might just be one of the most relaxing places around. Walk to Minnamurra Falls, an amazing double-tiered waterfall, or Carrington Falls, with its fabulous 50m drop. Sit back, listen to the hypnotic sound of flowing water and let your cares drift away.
Walk through history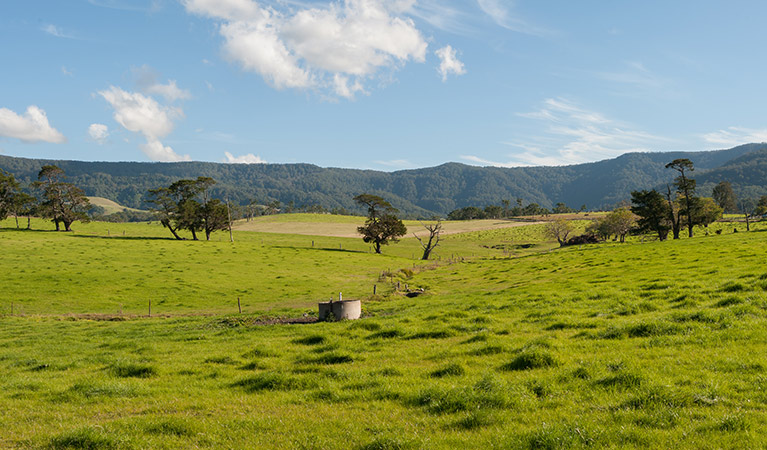 A walk around the park reveals its many uses over the years. Spot remaining cedar trees, so prized by foresters in the 1800s. Head downstream from the Minnamurra Rainforest to see the 1853 Kelly's Cottage and its camellia tree, believed to be one of the southern hemisphere's oldest. The land's rich soil and water supply make it ideal for dairy farming, and you can still see the monument to Australia's first butter factory in nearby Jamberoo Valley.
Park life
You're almost guaranteed to see wildlife in the park, particularly if you visit Minnamurra Rainforest Centre. Look for bowerbirds and king parrots, and visit between June and August for the spectacular image of a male lyrebird displaying his tail. You've a good chance of spotting a swamp wallaby at dawn or dusk, and keep an eye out for an eastern water dragon or perhaps even a diamond python soaking up the sunshine.
Rainforest loop walk

Ideal for walking with children, the beautiful Rainforest loop walk takes an hour to complete. It's located within Minnamurra Rainforest Centre in Budderoo National Park.

The Falls walk

Starting at the Minnamurra Rainforest Centre, enjoy spectacular rainforest, waterfall and canyon views from several viewing platforms along The Falls walk.
Plants and animals you may see
Animals
Platypus

(Ornithorhynchus anatinus)

One of the most fascinating and unusual Australian animals, the duck-billed platypus, along with the echidna, are the only known monotremes, or egg-laying mammals, in existence. The platypus is generally found in permanent river systems and lakes in southern and eastern NSW and east and west of the Great Dividing Range.

The striking blue and black plumage of the adult male superb fairy wren makes for colourful bird watching across south-eastern Australia. The sociable superb fairy wrens, or blue wrens, are Australian birds living in groups consisting of a dominant male, mouse-brown female 'jenny wrens' and several tawny-brown juveniles.
Plants
With glossy green leaves spanning 3-4m in length and a trunk reaching a height of up to 30m, the cabbage tree palm, or fan palm, is one of the tallest Australian native plants. Thriving in rainforest margins along the east coast of NSW, in summer this giant palm produces striking spikes of cream flowers which resemble cabbages.

Hardy Australian native plants, old man banksias can be found along the coast, and in the dry sclerophyll forests and sandstone mountain ranges of NSW. With roughened bark and gnarled limbs, they produce a distinctive cylindrical yellow-green banksia flower which blossoms from summer to early autumn.

Coachwood

(Ceratopetalum apetalum)

Coachwood trees are Australian native plants that grow in warm temperate rainforests along coastal NSW. Also known as scented satinwood, the mottled grey bark of the coachwood has horizontal markings and a delicate fragrance.
Look out for...
Malurus cyaneus
Environments in this park
Education resources (1)
Naturescapes e‑newsletter