Arakwal National Park
Learn more
Learn more about why this park is special
Arakwal National Park is a special place. Here are just some of the reasons why:
This is Aboriginal land
The reserve falls within the custodial boundaries of Bundjalung nation, with prime importance for the local Arakwal People who lend their name to the national park. The Bundjalung of Byron Bay (Arakwal) Peoples' connection to the reserve was recognised in 2001, with the signing of an Indigenous Land Use Agreement between the Bundjalung of Byron Bay (Arakwal) People and the NSW State Government.
Animals on the move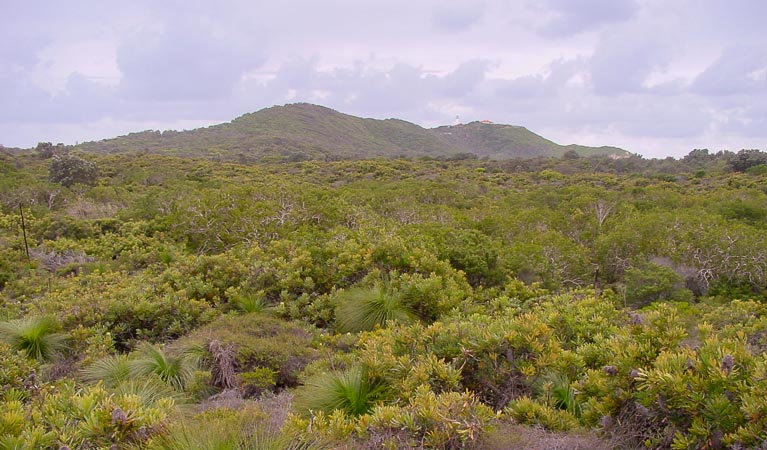 Arakwal may be small from the outside, but its borders hold some important habitat for threatened plant species like the creatively-named stinking crypotocarya, and dark greenhood. Keen nature enthusiasts will find much of interest; bring the magnifying glass, but be careful not to damage what you see. The reserve is also a temporary home to a range of nomadic and migratory animals, which means it's never quite the same in any given season. During autumn and winter, for example, the growing, flowering and fruiting season attracts birds, flying foxes and micro bats. Then there are the humpback whales, drifting past out to sea as they cycle annually between Queensland and the freezing waters of the Antarctic.
Plants and animals you may see
Animals
White-bellied sea eagles can be easily identified by their white tail and dark grey wings. These raptors are often spotted cruising the coastal breezes throughout Australia, and make for some scenic bird watching. Powerful Australian birds of prey, they are known to mate for life, and return each year to the same nest to breed.

The striking blue and black plumage of the adult male superb fairy wren makes for colourful bird watching across south-eastern Australia. The sociable superb fairy wrens, or blue wrens, are Australian birds living in groups consisting of a dominant male, mouse-brown female 'jenny wrens' and several tawny-brown juveniles.
Look out for...
Malurus cyaneus
Environments in this park
Education resources (1)
Naturescapes e‑newsletter