Wooloondool
Murrumbidgee Valley National Park
Overview
Wooloondool, in Murrumbidgee Valley National Park, is just outside of the town of Hay and ideal for camping, fishing, birdwatching, canoeing, swimming and enjoying the tranquillity of Murrumbidgee River.
Accommodation Details
Camping type
Tent, Camper trailer site, Caravan site
Facilities
Boat ramp
Please note

A boat ramp for launching is nearby at 4 Mile Reserve, just before Wooloondool.
Wooloondool is accessible to caravans, camper trailers, and tents, though there are no powered sites.
Although the majestic river red gums that line the Murrumbidgee River create shady picnic spots, try to avoid sitting directly underneath as they are notorious for dropping large branches without warning.
There is limited mobile reception in the park
Remember to take your binoculars if you want to bird watch

Price
Free.
Bookings

Bookings are not available for this campground.
Wooloondool, part of Murrumbidgee Valley National Park, is within easy reach of the town of Hay, and it's an ideal place to camp. Many set up camp at Wooloondool as it's a great place for fishing - yellowbelly, redfin, brim, catfish, and carp, as well as crayfish during the season, can all be caught here. Lions Fishing Tournament is held every February, part of which is at Wooloondool.
If fishing doesn't float your boat, you can stretch your legs on an easy walk along the riverbank to secluded swimming and picnicking areas. It's also a great place to launch a kayak or canoe and to explore the park through its picturesque waterways.
Wooloondool offers plenty of camping spots for caravans, campers, and tents, within groves of black box trees. River red gums line the nearby Murrumbidgee River, providing habitat for ring-tailed possums, wallabies, kangaroos and wombats. You're likely to see these at dawn and dusk, whilst tawny frog mouths live and hunt in this area at night.
Promotional:
Sign up to our Naturescapes e-newsletter which is packed with information, new products, experiences and events in NSW national parks. Your next park adventure starts here.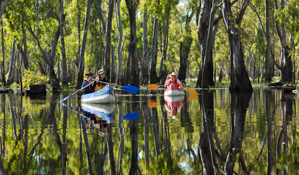 Conservation program:
Saving our Species is a innovative conservation program in NSW. It aims to halt and reverse the growing numbers of Australian animals and plants facing extinction. This program aims to secure as many threatened species that can be secured in the wild as possible, for the next 100 years.